The Black Power Mixtape 1967-1975
(2011)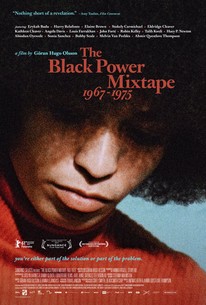 The Black Power Mixtape 1967-1975 Videos
The Black Power Mixtape 1967-1975 Photos
Movie Info
The Black Power Mixtape 1967-1975 mobilizes a treasure trove of 16mm material shot by Swedish journalists who came to the US drawn by stories of urban unrest and revolution. Gaining access to many of the leaders of the Black Power Movement-Stokely Carmichael, Bobby Seale, Angela Davis and Eldridge Cleaver among them-the filmmakers captured them in intimate moments and remarkably unguarded interviews. Thirty years later, this lush collection was found languishing in the basement of Swedish Television. Director Göran Olsson and co-producer Danny Glover bring this footage to light in a mosaic of images, music and narration chronicling the evolution one of our nation's most indelible turning points, the Black Power movement. Music by Questlove and Om'Mas Keith, and commentary from prominent African- American artists and activists who were influenced by the struggle -- including Erykah Badu, Harry Belafonte, Talib Kweli, and Melvin Van Peebles -- give the historical footage a fresh, contemporary resonance and makes the film an exhilarating, unprecedented account of an American revolution. -- (C) IFC
Rating:
NR
Genre:
Directed By:
Written By:
In Theaters:
On DVD:
Box Office:
$167,360.00
Runtime:
Studio:
News & Interviews for The Black Power Mixtape 1967-1975
Critic Reviews for The Black Power Mixtape 1967-1975
Audience Reviews for The Black Power Mixtape 1967-1975
½
If nothing else, The Black Power Mixtape 1967-1975 proves there is such a thing as truth in advertising. Billed as the greatest hits of some found footage filmed during the titular time period, the film really is a mixtape. But not every track on a mixtape is created equal. As such, I really dug some of what the film had to offer, but other segments left me cold and disinterested. It's certainly one of the more interesting documentaries of 2011, but its unusual structure ends up being a point of both praise and detraction. The seeds of the black power movement appear to have been planted around 1967-1968. It's during this time that we meet Stokely Carmichael, a charismatic leader of the growing movement. During a speech in Stockholm (the film is made by a group of Swedish journalists), Carmichael presents of vision of resistance that doesn't go so far as the ones Malcolm X and Louis Farrakhan would extoll a few years later, but it's certainly different than Dr. Martin Luther King Jr.'s call for non-violence. And after King is killed, Carmichael's words spread. They are picked up by a number of black activists from Oakland to Algeria, and the Black Panther Party is born. The film gets less and less interesting the longer it goes on. I suppose that's because, for whatever reason, the origins of black power are more compelling than the way it loses steam. Clearly, people weren't ready for the radical change proposed by the leading thinkers of this movement. They preferred incremental or no change to an overnight systemic shakeup. That's all good, as far as real world politics goes. As a film watcher and writer, I naturally root for conflict, and the latter years covered by the film don't have a ton of it. That's not to say the film is totally without merits after 1968. The Angela Davis interview is probably the highlight of the entire film and takes place well after the new decade starts. Also attention-grabbing is the way director Göran Olsson injects opinions on his native Sweden into the film. When a TV Guide article is published stating that Sweden has the most anti-American television shows, Stockholm is thrust into the spotlight of the black power movement. "Why is giving a voice to black power considered anti-American?" interviewees argue. "Good question," I'd respond. Ultimately, it's hard to say if the film's structure serves it well or not. It's interesting, but the end result is a film that comes across as jumbled and unfocused all too often. There's a great documentary to be had with this found footage. This, however, is merely a good one. http://www.johnlikesmovies.com/black-power-mixtape-1967-1975/
John Gilpatrick
I found it terribly interesting that the Swedish team that took much of the historical footage of this film caused an international incident by highlighting race tensions in the U.S. which resulted in a recalling of ambassadors. A great overview and look at some of the less well known characters of the movement. Thoroughly enjoyable.
John Ballantine
Super Reviewer
½
This documentary is essential viewing for anyone interested in modern American history, especially where African American studies are concerned. What we get here is a compilation of hours and hours of footage shot by a group of Swedish new reporters who were fascinated by the Black Power movement, and traveled all over the U.S. and other places to document what was going on. Years later the footage was found, compiled together, and commentary by contemporary individuals mostly artists, musicians, and filmmakers) influenced by the era was added in. There's also commentary from professors as well as some key players from the movement (Angela Davis, Bobby Seale, et al) who at the time of release, were still around to reflect on the times. This is a fascinating and absorbing documentary, It doesn't tell the complete story, but then again, the reporters weren't trying to. They just wanted to capture the era from a unique outsider perspective, and show their take on these important and incendiary events. That aspect alone makes this worth checking out. Plus, all of this footage was previously unreleased, so we get to see some really powerful and eye opening stuff at times. One of my personal favorite parts was the emotional interview Angela Davis gave from her prison cell. It's a chilling and moving moment. The film does have a clear bias that shows which side is favored, but it's not a complete propaganda piece, or entirely unbalanced. It does help if you come into this with some prior knowledge, but I think you might still be able to appreciate it if your knowledge of the people, places, and events are limited. I'm sure you could argue just how important this film is, and how valuable the contents are beyond the cursory, "look at this neat footage", but in the end, think this is some remarkable and useful material. Granted, I'm already interested, so I found it fascinating, but one can't deny that the Black Power movement was a vital part of modern American history.
Chris Weber
Super Reviewer
The Black Power Mixtape 1967-1975 Quotes
There are no approved quotes yet for this movie.
Discussion Forum
Discuss The Black Power Mixtape 1967-1975 on our Movie forum!