The Blossoming of Maximo Oliveros
(2006)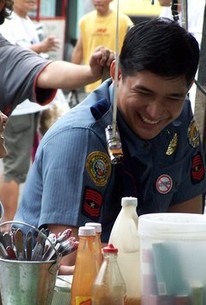 The Blossoming of Maximo Oliveros Photos
Movie Info
An effeminate 12-year-old who dutifully plays mother to his criminal father and older siblings experiences a crisis of conscience after befriending an honest Manila cop in the sophomore feature from director Auraeus Solito. A young innocent whose devotion to his family finds him taking the place of his own deceased mother, Maxi spends most of his days cooking and doing the household chores. In the evening hours, Maxi can often be found on the streets shopping and taking in a film at the local DVD stand with the many homeless children who seek a momentary escape from their bleak existence. When Maxi is rescued from a group of local thugs late one night by kindly rookie police officer Victor, his attraction to the kind-hearted and trustworthy Victor soon finds him torn between the criminal behavior of his family and his desire to follow a more honorable path in life.
News & Interviews for The Blossoming of Maximo Oliveros
Critic Reviews for The Blossoming of Maximo Oliveros
Audience Reviews for The Blossoming of Maximo Oliveros
Maximo Oliveros is the genderqueer son of a criminal family. His mother has passed away and he now keeps house for his father and two brothers whilst their shady dealings provide. A new policeman moves into the neighbourhood. Young and idealistic. One night he saves Maximo from an assault and a kinship is formed. Pretty soon Maximo has fallen into infatuation with the policeman (victor) and his loyalty to his family becomes rather stretched. An admirable blatantly low budget second film from director Auraeus Solito. The realism of the Filipino slum setting is overwhelming. Combining actual residents with the actors is key here and brings a thoroughly believable atmosphere. The newcomer Nathan Lopez is delightful in the lead. He needs to work on his crying acting though. Constant sniffing proved most annoying. It is a worthwhile watch, but by no means a perfect film. It takes a good while to get going. A strange start with Maximo playing at Miss World with his girlfriends went on for far too long. The establishment of the locale's acceptance of Maximo's genderqueerness and his own comfort in it was established quite quickly. The storyline just took forever to get started. Once it did though, you are brought in and it is a wonder where it will go. Satisfying ending? I'll leave it to you to decide.
Graham Beilby
½
Go Indie Films! Why is it though that art/indie films always includes gay protagonists? Can't we Filipinos go beyond this already?
Marlon Umali
Congested Manila slums project both the adorable and harsh everyday reality in the coming-of-age film Ang Pagdadalaga ni Maximo Oliveros (The Blossoming of Maximo Oliveros), a mesmerizing piece of actuality in the midst of poverty, crime, family, forbidden love and everything in between. The superb direction from Auraeus Solito brings to life the blunt and honest writing of Michiko Yamamoto that mainly revolves on the conflict between Maxi's affection for the young, handsome cop Victor and his family's criminal trade. Turning sharply from being light and charming into being brutal and sinister, the plot unveils Maxi's rather painful pursuit of his redemption. Amazingly, the film exhibits the acceptance and tolerance of his manly family and the unpleasant neighborhood for his homosexuality. Moreover, amidst the disagreeable society and culture, the Filipino virtues of family devotion and faith live on. It is also a picture of contrasts. The neighborhood remains in high spirits despite belonging to the third-world setting. Their apartment, though scarcely roomy, displays a cheery and relaxed atmosphere. The homosexuality is openly accepted despite the great influence of Roman Catholicism. Maxi is such a captivating blend of the cunning and the innocent, bubbly yet emotionally defenseless. Solito's knack for filmmaking that can actually stir such performance is incredible. Young, vibrant and talented Nathan Lopez carries out a performance that greatly fits the lead role and is splendidly complemented by the rest of the cast. In addition, the gripping cinematography from Nap Jamir and the compelling score from Pepe Smith essentially contributed toward the creation of a superior and exceptional feat. It is very uncommon for a film to pencil in an overpowering portrait of reality-based concept that truly lingers. What is even more gratifying is that this slice of brilliance Filipinos crafted is critically recognized around the globe. Ang Pagdadalaga ni Maximo Oliveros is a jewel of the independent film industry that acts on each individual while instituting a humanitarian paradigm more than just of tolerance, but of nonbiased judgment.
Maymay Asahan
Super Reviewer
The Blossoming of Maximo Oliveros Quotes
There are no approved quotes yet for this movie.
Discussion Forum
Discuss The Blossoming of Maximo Oliveros on our Movie forum!