The Bodyguard (Kaavalan)
(2011)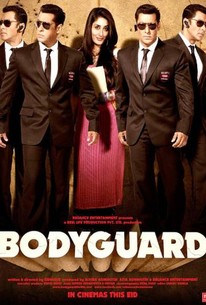 The Bodyguard (Kaavalan) Photos
Movie Info
When it comes to being punctual and doing his duties perfectly, Lovely Singh is unmatchable. Taking great pride in what he does, he spares no effort in giving his everything to his profession. Summoned for an assignment of guarding Divya, the daughter of Sartaj Rana, a business tycoon, Lovely Singh accompanies her to her campus, but ends up rubbing her the wrong way with his over-protective nature and paranoia about security. She finds him to be a major obstacle in leading a regular campus life. To throw him off-track and get him out of the way, she comes up with a 'master-plan'- that of trapping him in a fake love affair. -- (C) Reliance
Critic Reviews for The Bodyguard (Kaavalan)
Audience Reviews for The Bodyguard (Kaavalan)
A very fun action/comedy/romance which is dragged down by on overlong coda. Salman Khan plays his well-honed earnest tough guy character again but I can't fault him for sticking with such a winning and amusing formula since he does it so well and I still enjoy it.
Michael Harbour
it was good-ish. The ending made me think "WHAT THE HELL!?" (not in the good way) while making me almost want to cry at the same time... but more "wth".
Ifrah Alia
½
well choreographed stunt scenes and nice editing work, but the story developed into having two different identities. Started off as a light comedy but the twist in the end made it melodramatic and sort of killed it for me.
Savraj Hothi
The Bodyguard (Kaavalan) Quotes
Discussion Forum
Discuss The Bodyguard (Kaavalan) on our Movie forum!