The Boxer's Omen (Mo)
(2006)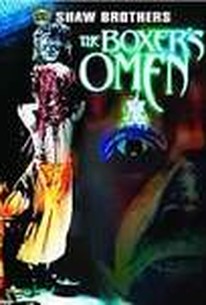 AUDIENCE SCORE
Critic Consensus: No consensus yet.
Movie Info
The director of Killer Snakes returns to terrify viewers with this tale of a fallen boxer whose quest for an omen with the power to break a long-running family curse leads to an action filmed adventure through a horrific land of nightmares and death. When the punches start flying and the creatures of the underworld come out to play, the battle is on to defeat the powers of evil, and free his family from the evil hex that binds them. Bolo Yeung and Lung Wei Wang star in a classic supernatural martial arts film from the prolific Shaw Brothers. ~ Jason Buchanan, Rovi
Critic Reviews for The Boxer's Omen (Mo)
There are no critic reviews yet for The Boxer's Omen (Mo). Keep checking Rotten Tomatoes for updates!
Audience Reviews for The Boxer's Omen (Mo)
Funky supernatural goodness from the Shaw Bros. Hong Kong boxers vs Thai boxers. Buddhist monks vs evil magicians. Armies of low budget bats. Giant crocodile attacks. Durian reggurgitation. This film has it all.
Paul Cardullo
Deciding to broaden my Shaw Brothers collection, I decided to purchase of few of their horror productions as opposed to their numerous period kung fu epics. Thoroughly enjoying their "Black Magic" series I was eagerly awaiting viewing "The Boxer's Omen" as it had the reputation of being even crazier and more bizarre than all their other horror productions balled together. Well it does live up to that reputation but those descriptions don't always prove to be a better movie as shown with this absolute mess of a film. As with many other Shaw Brothers productions, I was oblivious to the fact that "The Boxer's Omen" was a sequel before I purchased it. It is actually a follow-up to a film called "Bewitched" (which hasn't been given a stateside release) which documented the account of a Shaolin Monk taking on an evil black magic sorcerer. It is touched upon in this film in a memorable flashback sequence but the film is easily viewed on its own. The plot itself is an absolute mess of bizarre images and plot devices that vaguely tie together and make little to no sense. The basic plot has a kickboxer whose brother is paralyzed by a sadistic opponent. He promises his brother vengeance but his life gets complicated when he is visited by the apparition of a dead monk. Apparently he was a brother of the monk in a past life so he travels out of the country to visit his talking corpse (yes it's as strange as it sounds) in order to train to defeat an evil black magician that could destroy his chances at beating his kickboxing opponent. That's about as much as I could gather from its insane storyline. Fans of outrageous scenes that will dazzle the senses will get an eye full as just about every bizarre aspect of every other black magic Asian horror film is upped ten-fold. We get flying magician heads strangling people with tendons, Fuzzy stuffed animal looking spiders piercing eyes (ala Lucio Fulci's "The Beyond"), corpses raised from the dead in alligator carcass, attacking alligator skulls, bat crucifixions, bat skeletal dances, brain stirring in a skull and talking mummified corpses. Does any of this make sense? Nope but it would be more entertaining if the special effects weren't so lamentable causing more unintentional laughter than shock value. "The Boxer's Omen" may dazzle the senses with all its bizarre imagery but the film as a whole is a failure with its incomprehensible plot, pilfered music from "Alien", "Invasion of the Body Snatchers" and "Phantasm" awkwardly placed throughout and shoddy special effects that induce laughter. Basically it's entertaining for all the wrong reasons a horror film should be for. It's worth a look for fans of the bizarre but cult fanatics are better off hunting down the Indonesian horror film "Mystics in Bali" for a more fun wild ride down Asian Black Magic lane.
Eric Reifschneider
This Shaw Brothers netherworld nightmare is a montage of trashy white magic and sickening occult rituals that may test some audience's gag reflexes though for others that may be exactly why they're here. Either way it's hard to argue it's stimulating (at least momentarily) to see the usually tight-fisted Shaw Brothers intermittently escape their claustrophobic studio sets and film on location in both Thailand and Nepal.
Adam Laidig
The Boxer's Omen (Mo) Quotes
There are no approved quotes yet for this movie.
Discussion Forum
Discuss The Boxer's Omen (Mo) on our Movie forum!