The Bronze
(2016)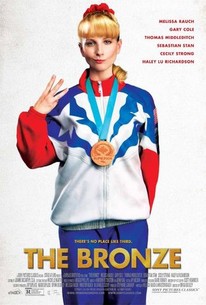 Movie Info
A decade ago, Hope Ann Greggory (Melissa Rauch) was America's sweetheart. Her inspired performance on a ruptured Achilles at the world's most prestigious gymnastics tournament clinched an unlikely bronze medal for the U.S. team and brought glory to her hometown of Amherst, Ohio. But in the years since that epic third place victory, Hope hasn't done a whole lot with her life. Still living in her dad Stan's (Gary Cole) basement, still sporting her daily uniform of a Team USA gym suit with teeny-bopper bangs, ponytail and scrunchie, she spends her days at the mall milking her minor celebrity for free food and favors. Hope's routine is upended when she learns that she must coach Amherst's newest gymnastics prodigy Maggie (Haley Lu Richardson) in order to receive a sizeable financial inheritance. The hard-edged yet insecure Hope is faced with a serious dilemma: does she jeopardize her "hometown hero" status by devotedly training this rising star to achieve the dreams she never could? Or does she attempt to sabotage the impressionable Maggie to ensure that she remains the one and only star in Amherst?
News & Interviews for The Bronze
Critic Reviews for The Bronze
Audience Reviews for The Bronze
I like Melissa Rauch on The Big Bang Theory. Here she stars as a spoiled, unlikeable, and unfunny character in a movie she also co-wrote with her husband. She and her husband also share exec-producer credits with the Duplass brothers. Thomas Middleditch, who I've been seeing many times in Verizon commercials since this was released, plays an adorable character with a much better grasp of responsibilities and everyday life. For some reason he is in love with Rauch's character Hope. This movie does include an eye-opening scene you have never seen before. When Hope has a sexual fling with a more successful former Olympic gymnast, they have an Olympic sized sex romp that challenges the Kama Sutra for variety.
Byron Brubaker
Super Reviewer
½
As comedies featuring raunchy female leads go the Bronze is a real win. Melissa... Raunch really creates a convincing cynical character shedding light in the world of optimism and big dreams that is gymnastics. The narrative might not take an ambitious route and falls into predictable patterns but the backwards premise and refreshing Napolean-Dynamitesque cast provide enough fun to propel the story forward in a sea of fairly well delivered laughs. A surprisingly on point production from a cast member of the terribly unremarkable BBT.
Drake Tsui
Super Reviewer
½
Definitely not for everyone, Raunch plays a past-it. gymnast living on fumes until opportunity knocks. This one's a keeper if only for the virulent vein of cynicism rife through the piece, particularly from such an unexpected source. The resolution's a cop-out, but forgivable.
Kevin M. Williams
Super Reviewer
The Bronze Quotes
There are no approved quotes yet for this movie.