The Bubble
(2007)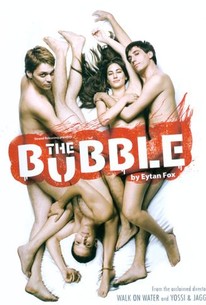 Movie Info
Lulu lives with two gay guys, brooding music lover Noam and flamboyant cafe owner Yali. The roommates' days and nights are spent in typical slacker fashion--hanging out, watching TV, getting laid. They are secular and progressive, but not overly political. Everything changes when Noam meets Ashraf, a cute and intense Palestinian guy, at a checkpoint. Noam is on reserve duty and Ashraf is helping a woman forced to give birth at the roadside--not the best circumstances for a meeting, but something connects them. When Ashraf shows up at Noam's apartment, a powerfully erotic love affair begins. Ashraf becomes part of their group, while Lulu and Yali also fall dramatically in and out of love. One almost believes that the two men could inspire change as symbols of peace, but their affair is already doomed. The awful violence of life outside the bubble envelops them, gradually making their affair one of painful, tragic irony.
Critic Reviews for The Bubble
Audience Reviews for The Bubble
½
The film broadened my mind on what is it like to live in Israel. Despite life being harsh on the main characters, they still try to live up their everyday life while balancing love and friendship. Also dealing with the conflict of a Jew and Palesteinian falling in love. The only problem with the film was the pacing and long dialogues, the culture may be intriguing for the foreign veiwers, but not for others
Sylvester Kuo
Super Reviewer
This movie was truly inspirational. After watching the trailer, I wasn't expecting what I saw. I laughed with the characters throughout the movie. I smiled. And then I cried like a baby at the end. Knowing the outcome from already reading reviews on this movie, I was tempted to stop watching the movie before the ending. (I am sick of gay movies ending in tragedy).. But I couldn't do that for this movie. Usually I am dissatisfied with sad endings, but with The Bubble I was captivated until the ending credits. Yes, I shed some tears, but I don't feel unhappy or upset when looking back at this movie. I feel inspired and touched at the power of their love. Everybody (gay or straight) needs to watch this. Definitely a must see! I will be watching this over and over!!
Amy Hallows
set in the mid east, amidst all the hostility, this film shows gays and their friends trying to ignore the politics and simply live their lives. there were some scenes that went on too long - more mood filler than anything else, and that detracted from the flow of the narrative. There are some powerful scenes here and while the climatic ending seemed somewhat rote, the blazing light and the circling camera were a nice touch. Overall, a canticle to peace and understanding that was heartfelt, yet somehow it managed to lack depth.
paul sandberg
Super Reviewer
The Bubble Quotes
There are no approved quotes yet for this movie.
Discussion Forum
Discuss The Bubble on our Movie forum!