The Bumblebee Flies Anyway
(1999)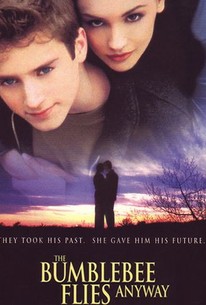 AUDIENCE SCORE
Critic Consensus: No consensus yet.
The Bumblebee Flies Anyway Videos
The Bumblebee Flies Anyway Photos
Movie Info
A teenager tries to find his memory in a hospital for the dying in this inspiring if downbeat drama. Barney Snow (Elijah Wood) is a young man suffering from amnesia; while he's able to summon up a few vague and disconnected memories of his past, most of it is extremely foggy at best, and he's somehow found his way into a hospital for terminally ill young people, where two of the doctors on staff (Janeane Garofalo and Roger Rees) try to work with him when they can spare time from their other patients. Barney gets to know some of the other patients at the clinic, including Billy the Kidney (George Gore III) and Mazzo (Joseph Perrino), who is battling cancer but not winning the fight. Barney also meets Mazzo's sister Cassie (Rachel Leigh Cook), who seems to be developing a crush on him. The Bumblebee Flies Anyway received enthusiastic notices for its younger cast when it was screened at France's Deauville Festival of American Cinema in 1999.
Critic Reviews for The Bumblebee Flies Anyway
All Critics (4) | Fresh (1) | Rotten (3)
Sincerity often paves the way for the maudlin and overly touchy-feely, and that's what happens here.
In this drama the parameters of health and healing are expanded to include memory, friendship and love.

Spirituality and Practice
Audience Reviews for The Bumblebee Flies Anyway
Wow this was excellent, I had no idea what this was about it just came on tv and so I watched and was amazed! Great acting, the story is very deep and emotional and keeps you at the edge of your seat even without action, how could this be you say well I don't know either but it works and it delivers the thrills.
Austyn Ybarra
Life is a terminal illness Barney Snow is a teenager that lost his memory in an unfortunate accident. Physicians begin using cutting edge techniques to try regain his lost memories. Barney finds himself in a special hospital with terminally ill children. As he begins regaining his memory, he also begins befriending some of the other patients. Can Barney coupe with his lost memories and soon to be lost friends? "He's here but he's not dying." "Then he doesn't belong here." Martin Duffy, director of Summer of the Flying Saucer, The Boy from Mercury, and Taliesman Jones, delivers The Bumblebee Flies Anyway. The storyline for this picture is entertaining and worth following. The characters are well delivered and developed and the script is creative. The acting is solid and the cast includes Elijah Wood, Janeane Garofalo, George Gore, and Rachel Leigh Cook. "Why do you use a wheel chair?" "So I don't have to walk." The Bumbleebee Flies Away aired on cable last night and the plot seemed interesting. I had never heard of this film. The overall subplot of the children of the hospital was outstanding but the end is a bit "magical" without fully explaining itself. Overall, I enjoyed this movie but it was not as good as it could have been. "I have a disease that shuts down my kidneys." Grade: C+
Kevin Robbins
Such a lovely masterpiece! So artful and delicately beautiful. I hold this film close to my heart.
Joel James
The Bumblebee Flies Anyway Quotes
| | |
| --- | --- |
| Barney Snow: | You don't understand what I'm talking about because it's not something you feel. |
| | |
| --- | --- |
| Barney Snow: | I'm not going to apologize for the fact that I'm not dying. |
Discussion Forum
Discuss The Bumblebee Flies Anyway on our Movie forum!