The Buttercream Gang
(1992)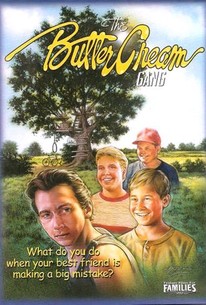 AUDIENCE SCORE
Critic Consensus: No consensus yet.
Movie Info
When a member of a close-knit group of small-town friends known as the "ButterCream Gang" returns home from a year in Chicago after falling under the influence of a violent street gang, his friends struggle to understand the reason behind his sudden personality change in this tale of friendship and unconditional love. In the quiet community of Elk Ridge, Scott, Pete, Eldon, and Lanny are inseparable. Though Pete's friends are saddened to learn that their friend will be moving to Chicago for the school year, their friendship is challenged when Pete returns from the city a very different person. As Pete struggles to come to grips with his past and the world outside of Elk Ridge, his friends learn an important lesson in friendship and forgiveness.
Rating:
NR
Genre:
,
Directed By:
Written By:
In Theaters:
On DVD:
Runtime:
Studio:
Feature Films for Families
Critic Reviews for The Buttercream Gang
There are no critic reviews yet for The Buttercream Gang. Keep checking Rotten Tomatoes for updates!
Audience Reviews for The Buttercream Gang
Is that a threat??? No its a promise......Whats the matter with Yoooou??? This movie is more funny than anything else....makes me wanna join a gang....
Tash O
½
Not many people are aware of this very odd nineties movie that showcases Morman values. It's like a lost 50s movie that was made 40 years too late, but maybe Mormon Children are still this good natured. It was almost like Stand By Me without the tragedy and foul language. The Gang has a falling out with their previous leader, who has become a wrong doer. It simply must be seen for the completely odd movie it is.
Conner Rainwater
Super Reviewer
The butter cream gang!!!! ha ha ha I love it. Ok, let me start this brief review by stating that I have not seen this movie for about 12 years so I am going to write it from the perspective of my younger self. This movie tells a story of four kids who start a gang in the name of good called, "The butter Cream Gang". This gang does not slang drugs, hurt others, or cause any kind of of trouble what so ever. They instead help those in need, volunteer they're time in the name of good, and live a life of morality. One day, one member of the gang has to move away and ends up in a real gang and becomes corrupt and troubled....how tragic right. He eventually returns home and the original Butter Cream Gang embraces him. Sadly he brought the real gang mentality with him and begins to trouble the town and more specifically the original gang he was once apart of. The whole movie is then a telling of how the Butter Creamers deal with they're long lost members antics and how good overcomes evil....so to speak. Look, nobody is going to ever go find this movie and watch it because in all reality in was never intended for anyone beyond the age of 12. I'm writing this review because I remember watching it as a young kid and relating. This movie deals with the whole bully issue head on and growing up I hated bullies!!! So, I watched this movie and felt inspired to deal with my own adolescent demons ha ha. This is funny as shit to write because I 'm quite sure if I were to watch this movie today I would laugh my ass off at how cheesy and low budget it really is, but as I child I felt inspired by this movie to be better. So.....should you ever read this review (doubtful) and have kids over the age of 7 and under the age of 13,(even more doubtful) then go find this movie and let them watch. They will like it cuz they are to innocent to know how messed up the world really is and if this movie does one thing its to tell the young ones that doing the next right thing really does matter. Now, for all you adults who will never watch this movie.....don't. Cuz you and your inability to digress from life experience with make a fool of this humble yet nice attempt to promote good. DID YOU KNOW? The ButterCream Gang was formed several decades prior to the storyline during the war. The local women were left unable to churn butter with their men gone. A group of boys began going around town to help them do this (hence the name) and other chores. Over the years, the group expanded to four members and eventually came to do all sorts of helpful things for the locals. See…..this movie derived from history!! Who knew
Noah Thomas
The Buttercream Gang Quotes
There are no approved quotes yet for this movie.