The Call of Cthulhu
(2005)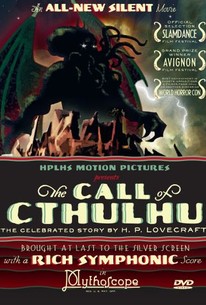 The Call of Cthulhu Photos
Movie Info
H.P. Lovecraft fans rejoice, because the story that spawned an entire mythology finally comes to the silver screen in this visionary feature that would strike terror into the hearts of even the Great Old Ones. A silent film shot in the expressionistic style of F.W. Murnau and Carl Theodore Dryer, director Andrew H. Leman's take on the Cthulu mythos follows the nephew of a renowned professor as he procures documents concerning a mysterious cult. The followers of an ancient deity who lies under the ocean waters awaiting the day that he will return to rule over the Earth, the Cthulu cult are convinced that the day of reckoning is at hand. According to his grandfather's notes, any mortal who hears the mighty Cthulu's call will be driven beyond madness. As the horrifying reality of this cosmic terror begins to take form, the frightened man passes the torch to his psychiatrist, who personally sets out to investigate the dark legend.
Critic Reviews for The Call of Cthulhu
Audience Reviews for The Call of Cthulhu
½
Nice try at replicating the processes of actual silent film making but the textures and colors or rather lack there of are off.
½
A silent movie made in 2005 in Black and White is pretty strange in itself, but this movie is nothing short of very strange. It's HP Lovecraft's most famous story. Taken and mastered by H.P. Lovecraft Historical Society. This movie appeard in over 30 major film festivals across the world. A very interesting web site of this move can be located at http://www.cthulhulives.org/cocmovie/index.html , It goes into much further detail then I can in a few short lines. The movie is about a man recounts how his discovery of secret knowledge has driven him over the edge and brought him close to death. Its the framework that Lovecraft used again and again to tell his stories of horror. Here the story is that of the cult of Cthulhu which he discovers upon the death of his Great Uncle, a man who was himself driven to the edge of madness and to death by the secrets he uncovered. Essentially a series of flashbacks and narratives this film builds a great deal of unease as bits of story and coincidence create an a narrative that has unpleasant implications. Its not the kind of think that will make you jump out of your seat, but it will make you want to turn the light back on. 3 1/2 stars on this one.
Bruce Bruce
Super Reviewer
½
Close, but not quite...The Call of Cthulhu is admirable on a non-budget, and Andrew Leman's choice to emulate German expressionist classics like The Cabinet of Dr. Caligari is well informed. Making the film silent and black and white was a great choice. There's an obvious respect for and knowledge of the source material that makes this short film a really great homage, and almost certainly the best Lovecraft work to date, but I just don't think the tone or compositions here truly pop. In some ways, I think adhering to source material that attempts to convey a menace of inconceivable grandiosity is probably impossible for just about any movie, and though this comes close, I think it falls short of true artistic inspiration.
Drew Smith
Super Reviewer
The Call of Cthulhu Quotes
There are no approved quotes yet for this movie.