The Cartel
(2010)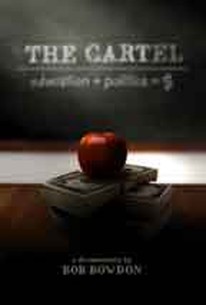 TOMATOMETER
AUDIENCE SCORE
Critic Consensus: Director Bob Bowdon may make some strong points in The Cartel, but they're drowned out by his grating screen presence and amateurish filmmaking.
Movie Info
About The Cartel | Teachers punished for speaking out. Principals fired for trying to do the right thing. Union leaders defending the indefensible. Bureaucrats blocking new charter schools. These are just some of the people we meet in The Cartel. The film also introduces us to teens who can't read, parents desperate for change, and teachers struggling to launch stable alternative schools for inner city kids who want to learn. We witness the tears of a little girl denied a coveted charter school spot, and we share the triumph of a Camden homeschool's first graduating class.Together, these people and their stories offer an unforgettable look at how a widespread national crisis manifests itself in the educational failures and frustrations of individual communities. They also underscore what happens when our schools don't do their job. "These are real children whose lives are being destroyed," director Bob Bowdon explains.The Cartel shows us our educational system like we've never seen it before. Behind every dropout factory, we discover, lurks a powerful, entrenched, and self-serving cartel. But The Cartel doesn't just describe the problem. Balancing local storylines against interviews with education experts such as Clint Bolick (former president of Alliance for School Choice), Gerard Robinson (president of Black Alliance for Educational Options), and Chester Finn (president of the Thomas B. Fordham Institute), The Cartel explores what dedicated parents, committed teachers, clear-eyed officials, and tireless reformers are doing to make our schools better for our kids.This movie will force the scales to fall from the eyes of policymakers, education officials, reformers, intellectuals, teachers, and taxpayers. Putting a human face on the harm done by the educational cartel, The Cartel takes us beyond the statistics, generalizations, and abstractions that typically frame our debates about education-and draws an unequivocal bottom line: If we care about our children's futures, we must insist upon far-reaching and immediate reform. And we must do it now. --© Official Site
Rating:
NR
Genre:
, ,
Directed By:
Written By:
In Theaters:
On DVD:
Runtime:
Studio:
News & Interviews for The Cartel
Critic Reviews for The Cartel
Audience Reviews for The Cartel
Finally, someone expose the corrupt teacher unions. Everyone is afraid to say it, but many public teachers are terriable. My high school years would have been spent better if they had put me in front of a computer with wikipeadia and Khan Acedemy
Jared Goodman
The Cartel might more appropriately have been titled, "Sollozzo and McClusky meet Michael" (taken from the scene in Godfather I at Louis' Italian American Restaurant in the Bronx). Sollozzo represents the union (NJEA), Captain McClusky represents non-working traditional public schools, and Michael represents school choice. These forces square off nicely, but the viewer, almost immediately, knows that the outcome of the conflict favors Michael because a gun (vouchers and charter schools) has been planted for him to kill the other two. If Michael does not kill the two, they will certainly kill his father, Don Vito (Milton Friedman). Sollozzo and Michael speak a language that McClusky does not understand, and they use it to vie for power; however, Michael deep down knows he has to kill Sollozzo, and then McClusky because he was "a crooked cop who got mixed up in the rackets and got what was coming to him". Not all non-working traditional public schools are like McClusky, so, in a sense, it is easier to take on Sollozzo (NJEA) because it's easier to stereotype him (it) as a single bogey man. Michael fretfully stumbles upon the gun, and then shoots one bullet into Sollozzo and two bullets into McClusky, but in The Cartel it's the other way around: the union gets twice as much as the non-working traditional public schools (maybe Tom Hagen was right: "nobody has ever gunned down a New York police captain before. It would be disastrous. All the other families [parochial schools, private schools, magnet schools] would turn against you."). After killing Sollozzo and McClusky, Michael paces quickly out of the restaurant, glad that he took care of family business yet uncertain about his next move. The viewer leaves the theater feeling pretty much the same. The missing struggle in The Cartel is how to deal with Don Barzini (New Jersey Department of Education). Don Vito didn't know until meeting with the heads of the other families that it was Barzini all along. The viewer of The Cartel does not know until the heads of twenty-two charter schools apply for a charter but only one is granted. What does this tell us about power and regulation? How does it inform us about the role and structure of effective schooling? Is there a way to avoid a baptism scene? Maybe a sequel is in order?
Stephen Lipski
Many people are 100% pro or anti Union and this strongly colors their perception of this great movie. Of course, not all Unions are created equal, and the teachers unions exist in a special niche of the American economic system. The movie does a great job describing problems with the Teachers unions and what they do to the American education system. Clearly there are many other problems for American schools, but people are typically unaware of how the system really operates. Everyone wants better schools, but they parrot the refrain 'we need more money'. Completely missing the source of the problems. Spending more money on American education is like giving money to a gambler to fix the problem. The problem is the system, not the funding. Anyone who cares about their kids education should see the movie so they see a more nuanced argument than 'give us money'.
saul devitt
The Cartel Quotes
There are no approved quotes yet for this movie.