The Castle of Fu Manchu
(1972)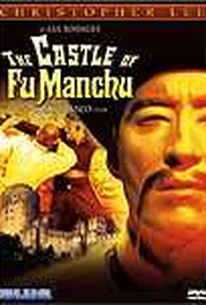 AUDIENCE SCORE
Critic Consensus: No consensus yet.
The Castle of Fu Manchu Photos
Movie Info
This extremely low-budget adventure was director Jesus Franco's second Fu Manchu film for British producer Harry Alan Towers. Christopher Lee returns as the Asian madman, who has developed a way to turn the oceans into ice as part of his plan to rule the world. Kidnapping famed Prof. Herakles (Gustavo Re), Fu forces the doctor to help him with his diabolical plan. When Herakles' health starts to fail, Fu kidnaps two more people (Guenther Stoll, Maria Perschy) for a transplant operation at his Istanbul headquarters. Fu's old rivals Dennis Nayland Smith (Richard Green) and Dr. Petrie (Howard Marion Crawford) come to Turkey to foil his evil experiments. Rosalba Neri, Jose Manuel Martin, and Werner Abrolat co-star in this poor fifth installment in the popular series. The film is so poorly conceived that -- although it was made in color -- the shipwreck caused by Fu is actually a black-and-white scene borrowed wholesale from A Night to Remember. For completists only, this disastrous entry also stars Herbert Fuchs and Tsai Chin, while Franco makes a cameo as a Turkish detective. Various versions run 92, 86, and 85 minutes.
Critic Reviews for The Castle of Fu Manchu
Audience Reviews for The Castle of Fu Manchu
It truly was awful, the direction was a disaster, the editing was bad, the acting was even worse. I know it's low budget but it was really obvious.
Sylvester Kuo
Super Reviewer
I've seen a lot of terrible films, and so I don't say this lightly... Castle of Fu Manchu is the worst movie ever created. It has no redeeming value whatsoever. It's not silly enough to laugh at. The plot is incomprehensible garble. The camera zooms in and out inexplicably while stuffy British wankers mumble stuff about things happening to people in places. Deeeeeeep Hurting.
Brett Warren
Super Reviewer
What a difference a decent transfer makes. For ages only viewable in muddy, heavily cut, nearly unwatchable prints, The Castle of Fu Manchu is now available, thanks to Blue Underground, in all of its colorful, zoom-laden glory. The last of producer Harry Alan Towers' five-film Fu Manchu series, and generally considered to be the worst, The Castle of Fu Manchu is actually a fun, trashy time waster, and far better than the previous film in the series, The Blood of Fu Manchu, which was burdened by a tedious bandito sub plot that dragged the film to a grinding halt. Directed with a certain pulpy vitality by the highly erratic but occasionally brilliant Jess Franco, Castle has a tacky comic book verve that is hard to resist, and that is certainly more entertaining than many of the expensive, highly touted bombs that Hollywood has been dropping lately. Contrary to what others have reported on this site, Christopher Lee is in excellent form, delivering his lines with distinctive aplomb and offering a stunning, iconographic series of facial expressions as he attempts to overact under the restrictive 'Oriental' make-up. The great Tsai Chin (soon to be seen as 'Auntie' in Memoirs of a Geisha), as Fu's devoted, sadistic daughter, Lin Tang, is terrific as always, and looks particularly fetching in her white Hejab. Best of all, Rosalba Neri shows up as a tough, Fez-topped lesbian, of whom Fu says "Keep her alive. She might be useful to us. She fights like a man." 5 Stars 10-19-13
Bruce Bruce
Super Reviewer
The Castle of Fu Manchu Quotes
There are no approved quotes yet for this movie.
Discussion Forum
Discuss The Castle of Fu Manchu on our Movie forum!