The Cement Garden
(1992)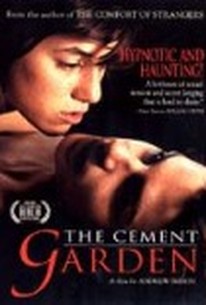 Movie Info
Ian McEwan's disturbing novel is given a chilly shimmer in this film adaptation by Andrew Birkin. The film takes place in a concrete slab of a house situated on the outskirts of an English town. The father (Hanns Zischer) is a consumptive creep, while the mother (Sinead Cusack) is a sweet and understanding matriarch. When the father dies of a heart attack after his garden is paved over, it is too much for the mother to bear, and after a few weeks she wastes away and also dies. This leaves the children to fend for themselves. The eldest sister and brother, Julie (Charlotte Gainsbourg) and Jack (Andrew Robertson), have to care for the younger children, Sue (Alice Coultard) and Tom (Ned Birkin). Without parental supervision, the four children give themselves up to their secret longings. Jack hides in corners to masturbate, but Julie uses her sexual attraction to lure Jack into an incestuous relationship. Even the younger children have their problems: Sue is mostly mute and spends all her time obsessively writing in her journal, while Tom feels that deep inside himself he is a girl trapped in a boy's body. The children hide the mother's remains in the basement and live off her bank account. The neighbors don't suspect a thing --that is until sleazy Derek (Jochen Horst) begins to come around in his red convertible, trying to get a date with Julie. ~ Paul Brenner, Rovi
Audience Reviews for The Cement Garden
½
A quite strange story based on a Ian McEwan's novel. Jack is the typical adolescent who must deal (if you can say so) with his sexual needs,but he becomes infatuated with his sister,which will lead them to a incestuous relationship...
Nadia Chloe
½
Based on the book by Ian McEwan with the same title, The Cement Garden tells the tale of youth left to develop on its own, without adult supervision. After the death of their parents, Jack, Julie, Tom and Sue are left to fend for themselves in a dreary house cast off from the rest of the world. The film at times follows the book in almost obsessive detail (there is a scene where Jack climbs up a pile of rocks to talk to Julie. In the book it is mentioned that a rock tumbles down as he steps on it. This small detail is duplicated in the film). The central story revolves around Jack, Julie and their developing sexuality. While possibly too slow for some and ultimately not for the faint of heart, The Cement Garden captures the quiet dread of the book while keeping the viewer mesmerized and wondering what will happen to this family of children.
Mister X
Considering how much I loved the book by Ian McEwan, and that I watched the movie less than a week later, I was probably setting myself up for disappointment. That being said, this faithful and haunting adaptation held its own surprisingly well. There are a lot of strong images in the book, and the movie does a beautiful job of bringing them to life on the screen. The whole cast did a great job, too, including the six-year-old sibling who is actually played by the director's own son. There's some very disturbing subject matter here, but cast and crew alike manage to take these deeply troubled characters and make the viewers feel like they can actually on some level understand what they're going through. Read the book if you want to truly get inside their heads, but this isn't a bad substitute by any means.
Alyssa Nolan
The Cement Garden Quotes
There are no approved quotes yet for this movie.
Discussion Forum
Discuss The Cement Garden on our Movie forum!