The Central Park Five
(2012)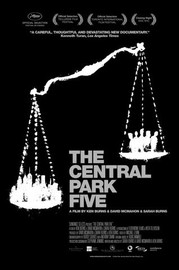 Tickets & Showtimes
The Central Park Five Trailers & Photos
Movie Info
In 1989, five black and Latino teenagers were arrested and charged for brutally attacking and raping a white female jogger in Central Park. News media swarmed the case, calling it "the crime of the century." But the truth about what really happened didn't become clear until after the five had spent years in prison for a crime they didn't commit. With THE CENTRAL PARK FIVE, this story of injustice finally gets the telling it deserves. Based on Sarah Burns' best-selling book and co-directed by her husband David McMahon and father, the beloved doc filmmaker Ken Burns, this incendiary film tells the riveting tale of innocent young men scapegoated for a heinous crime, and serves as a mirror for our times. (c) IFC Films
more
Watch it now
Cast
News & Interviews for The Central Park Five
Critic Reviews for The Central Park Five
Audience Reviews for The Central Park Five
½
The story of the five teenagers who were picked up in Central Park, charged with rape, and convicted based on suspect confessions, then freed after serving years in jail when DNA evidence identified the real rapist. A frightening reminder that whenever there's a horrible crime, society demands that someone must pay, and you don't want to be the one in the wrong place at the wrong time. NEVER TALK TO THE POLICE DURING AN INVESTIGATION WITHOUT A LAWYER PRESENT.
"The Central Park Five" is a heartbreaking and powerful documentary about five teenagers, Antron McCray, Kevin Richardson, Raymond Santana, Kharey Wise and Yusef Salaam who were falsely convicted in the rape and assault of Trisha Meili in Central Park on April 19, 1989. As District Attorney Robert Morgenthau puts it, if only they had known then what they later knew when the youths were exonerated. But here is the rub. The correct evidence was there, if only they had wanted to look for it. Instead, there was a rush to judgment by the police in coercing their confessions and later in the press, which the documentary painstakingly details with a thoroughly credible timeline of events. Later, you can see how their lives were adversely affected, as Richardson's sister points out that they are as much victims as Meili.

Whereas it is safe to say that New York City has changed dramatically over the decades, it is not quite as "The Central Park Five" alleges, barely glancing over the changes in the police department, along with perceptions that go beyond just those concerning race. For example, Meili felt comfortable enough to jog in the park after dark, as Central Park has always been less a sacred space as Koch testifies(It's neat that he allows to be interviewed here, considering his past intemperate comments. It would have been nice to have gotten other officials on the record to see how some of them sleep at night.), than a commons for all of the city's people to enjoy, even as the documentary via the tabloids of the day would say otherwise.(Not to be facetious but there are two ways I can tell a neighborhood is safe: joggers and dog walkers.) By the way, the only thing stopping New York State getting the death penalty at the time was Mario Cuomo's courageous annual veto.
Discussion Forum
Discuss The Central Park Five on our Movie forum!
News & Features