The Central Park Five
(2012)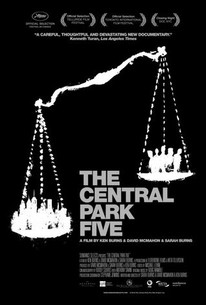 The Central Park Five Photos
Movie Info
In 1989, five black and Latino teenagers were arrested and charged for brutally attacking and raping a white female jogger in Central Park. News media swarmed the case, calling it "the crime of the century." But the truth about what really happened didn't become clear until after the five had spent years in prison for a crime they didn't commit. With THE CENTRAL PARK FIVE, this story of injustice finally gets the telling it deserves. Based on Sarah Burns' best-selling book and co-directed by her husband David McMahon and father, the beloved doc filmmaker Ken Burns, this incendiary film tells the riveting tale of innocent young men scapegoated for a heinous crime, and serves as a mirror for our times. (c) IFC Films
News & Interviews for The Central Park Five
Critic Reviews for The Central Park Five
Audience Reviews for The Central Park Five
As an in depth look into the heinous behavior of the New York City police department at the time of the case of the Central Park Five, this film digs deep into the motivations for these horrible choices to coerce, and the repercussions for five teenaged boys. Any film about false imprisonment is a tear jerker and fills you with compassion and anger. The film is quick to point out that the prison system incarcerates those they see as doing wrong, but does not remember them, or console them, for their false convictions, instead letting them go and shrugging as if to say "Oops." Ken Burns is always insightful and happy to show the cultural and ethno-political leanings of every event he covers. In this way we get the feel for the time period, the racial tensions between the police and racial minorities, and the fervor and rioting that took place. Still, it was a huge case that took the nation by storm, but once they were exonerated, no one cared, and that's what really makes this documentary stand out. Not only does this tell a story, but shows that no one cared about the ending.
Spencer S.
Super Reviewer
In typical Ken Burns fashion, we have a magnificently laid out documentary that is not only the story of five innocent teenagers but the history of a City and its rough and tumble period during the eighties. Excellent.
John Ballantine
Super Reviewer
½
The story of the five teenagers who were picked up in Central Park, charged with rape, and convicted based on suspect confessions, then freed after serving years in jail when DNA evidence identified the real rapist. A frightening reminder that whenever there's a horrible crime, society demands that someone must pay, and you don't want to be the one in the wrong place at the wrong time. NEVER TALK TO THE POLICE DURING AN INVESTIGATION WITHOUT A LAWYER PRESENT.
The Central Park Five Quotes
There are no approved quotes yet for this movie.