The Ceremony
(2008)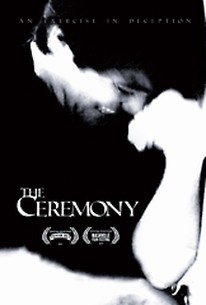 AUDIENCE SCORE
Critic Consensus: No consensus yet.
Movie Info
The wrong book in the wrong hands turns out to have terrible consequences in this independent thriller. Eric Peterson (Scott Seegmiller) is a college student is who just wrapping up his degree in psychology. With a solid job offer on the table from a hospital, Eric has only to complete one final paper before he can leave campus life behind forever. Eric is packing up his belongings at the fraternity house he calls home when he notices one of the rooms is filled with candles, and he discovers a book titled The Ceremony . Eric begins leafing through the book and is quickly drawn into it, imagining that its description of bizarre gothic rituals might be just the right subject for his last paper. But the more Eric becomes absorbed in the book, the less he realized the effect it's having on him -- or that following its instructions is leading him down a dangerous path towards evil. The first feature film from writer and director James Palmer, The Ceremony received its world premiere at the 2009 South by Southwest Film Festival.
Rating:
NR
Genre:
,
Directed By:
Written By:
On DVD:
Runtime:
Studio:
Critic Reviews for The Ceremony
There are no critic reviews yet for The Ceremony. Keep checking Rotten Tomatoes for updates!
Audience Reviews for The Ceremony
½
The Ceremony (James Palmer, 2008) The Ceremony is an interesting little film, the kind of thing that makes Netflix Instant (note: it is no longer available there as of this writing) such a wealth for those of us who like trolling the internet for horrifically low-budget student films made by guys with a camera, a script, and a dream. In this case, that person is James Palmer, who wrote and directed the film, and has not been heard from since. That doesn't make sense to me, because despite seeming to have had almost no budget, The Ceremony is an effective little movie; it shows its limitations every now and again, but anyone with one eye and a pulse can see what Palmer is capable of here, I think. Plot: Eric Peterson (Scott Seegmiller in his only screen appearance to date) is about to graduate from college. He's accepted a prestigious position in Korea; all he has to do is get through his final weeks of school and away we go. In preparation, he's staying on in the house this weekend while all of his roommates have gone. He's taking the opportunity to do some cleanup, and when he gets to the attic, he discovers a weird ritual scene involving an old book and some candles. Note to self: if you stumble upon this in your house, do not read the book in question. It can only lead to creepy things happening. Eric soon becomes convinced that those creepy things are eventually going to add up to him shuffling off this mortal coil unless he figures out how to break what is, in essence, a curse. You haven't heard from Scott Seegmiller, either, and that makes even less sense; while The Ceremony is not entirely a one-person film, it's as close as dammit. Now, coincidentally, we have another excellent example of an attempt to do a one-person horror film in recent memory, La Casa Muda. (The American remake doesn't work, since it minimizes the amount of time Sarah spends alone.) Now, I liked La Casa Muda, up till the last twenty minutes of the movie, and much of the reason had to do with Florencia Colucci's performance, but, to put it kindly, Seegmiller blows her out of the water here. Every minute he is onscreen, he is credible as a character facing an incredible situation. Palmer heightens this feeling with the aggressively mundane nature of the set (one assumes he filmed it in his parents' house or the like), which is totally going to contradict my next few sentences, but there you go. Like I said above-sometimes the limitations of the low budget come through. The best filmmakers capitalize on this (Ricardo Islas does a fantastic job in that regard, as one example), and I think Palmer did a credible job of that here, but the movie does suffer from a little student-film-itis in trying to overcompensate for that. (The mirrors, the mirrors, the mirrors, and some camera angles that left me scratching my head in befuddlement, and did I mention the mirrors?) Those are ultimately minor considerations, and I would be thrilled to see what Palmer and Seegmiller do next. Except that it's now been five years with no word at all. Hopefully that will change soon. ** 1/2
Robert Beveridge
½
Good, if derivative, premise, but it didn't bring anything new to the genre. We've seen it before and seen it better. Improving the pacing and editing may have helped - this is a very slow film, and not the kind of slow that builds suspense or tension, just the kind that drags.
John Wagner
Usually I'm wary of films that have received scant reviews, but this one was for the most part worth it. Now I wouldn't go so far as to say it blew me away, or anything of the sort, rather, to be fair, I'd call it above-average - we can leave it at that. The first half of The Ceremony employs the elements of mystery and suspense quite effectively, only later does it appear to wear thin, at times bordering on the ridiculous. The acting is decent enough and camerawork is top-notch. Elements such as the play of light vs. shadow / sound vs. silence are some of the best features the film has to offer, playing a crucial role in the storytelling process. Don't expect any heads spinning or grotesque monsters hanging from chandeliers, think flapping cupboards and sliding chairs and shadows that play tricks on the mind. As a whole the action is pretty slow-going but I think you'll find the conclusion is satisfying, if not somewhat predictable.
Charles Frauman
The Ceremony Quotes
There are no approved quotes yet for this movie.