The Chaperone
(2011)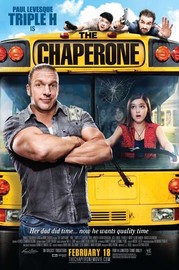 The Chaperone Trailers & Photos
Movie Info
Pro wrestler Paul "Triple H" Levesque stars in this action crime comedy as Ray, a former bank robber who's attempting to start a new life when his criminal past returns with a vengeance. Life on the outside can be tough for an ex-con, so when opportunities prove to be few and far between, Ray's old crew tries to entice him to come back into the fold for one last heist. Ray considers rejoining, but ultimately decides against it -- signing up to chaperone his daughter's class' trip to the natural history museum instead. Unfortunately, when Ray's crew doesn't quite get the message, the bank robbers and the field-tripping students cross paths at the most inopportune times.
more
Cast
News & Interviews for The Chaperone
Critic Reviews for The Chaperone
Audience Reviews for The Chaperone
½
Cast: Triple H, Kevin Corrigan, José Zúñiga, Kevin Rankin, Enrico Colantoni, Israel Broussard, Jake Austin Walker, Ashley Taylor, Cullen Chaffin, Darren O'Hare, Ariel Winter

Director: Stephen Herek

Summary: After serving time in the slammer for driving the getaway car in an attempted bank robbery, Ray Bradstone (professional wrestling star Paul Levesque -- better known as Triple H) is a reformed family man who wants to chaperone his daughter's class trip. But some bad guys (Kevin Corrigan and Kevin Rankin) from his past have other plans. Can Ray outwit these nitwits while keeping himself and his daughter (Ariel Winter) safe from harm?

My Thoughts: "There are only two reasons one would watch this film. 1. If you have kids (or like myself nieces and nephews) or 2. If your a fan of wrestling. I happened to watch it for reasons of number one. Wrestlers and acting.. Some can pull it off (The Rock) and some should just stick to wrestling. Not naming any names considering I haven't watched many wrestlers in films. Well, not knowingly. Paul 'Triple H' Levesque, wasn't bad in the film. I've seen him act before in a Blade film I believe. But the acting wasn't nothing special either. The kids loved it and I guess that is what will matter if those are your reasonings for seeing this film."
♥˩ƳИИ ƜѲѲƉƧ♥
Super Reviewer
½
The film wasn't bad, but it wasn't great either. Triple H is trying to do what action stars have done before, a family film. Like when Arnold did Kindergarten Cop, Diesel did The Pacifier, and The Rock did The Game Plan. Those films were better than this one. They had a good idea for a film here but they didn't execute it correctly. I was expecting better from director Stephen Herek. The tone of the film is off. Some the jokes fall flat. A lot of the supporting cast is miscast.

Triple H does the best that he can with what he has to work with. I still like him in Blade Trinity. Ariel Winter was good as his daughter and they have a great on screen chemistry. Yeardley Smith (Lisa Simpson) steals this film.
The Chaperone Quotes
Ray Bradstone: You have to Zig instead of Zag.
Miss Miller: Sally, it's so nice to finally meet your father.
Ray Bradstone: I at least deserve a second chance to get to know my own daughter.
Discussion Forum
Discuss The Chaperone on our Movie forum!
News & Features