The Christmas Candle
(2013)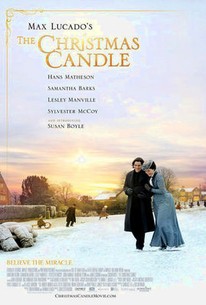 The Christmas Candle Videos
The Christmas Candle Photos
Movie Info
From bestselling author, Max Lucado, comes The Christmas Candle, a timeless holiday film for the entire family. Deep in the heart of the English countryside lies the enchanting village of Gladbury. Legend has it every 25 years an angel visits the village candlemaker and touches a single candle. Whoever lights this candle receives a miracle on Christmas Eve. But in 1890, at the dawn of the electric age, this centuries old legend may come to an end. When David Richmond (Hans Matheson), a progressive young minister, arrives in Gladbury, the villagers discover a new formula for miracles: good deeds and acts of kindness. While David's quest to modernize Gladbury sets him at odds with the old world candlemaker, he finds an unlikely ally in the lovely skeptic, Emily Barstow (Samantha Barks). Now, the fiery candlemaker must fight to preserve the legacy of the Christmas Candle. But when the candle goes missing, the miraculous and human collide in the most astonishing Christmas the village of Gladbury has ever seen. (c) Official Facebook
Rating:
PG (for mild thematic elements)
Genre:
,
Directed By:
Written By:
In Theaters:
On DVD:
Runtime:
Studio:
News & Interviews for The Christmas Candle
Critic Reviews for The Christmas Candle
Audience Reviews for The Christmas Candle
Enjoyable primarily in its unintended humor. A nice story that is neither theologically nor historically accurate and doesn't quite to care that it isn't.
Jesse Luke
The Christmas Candle is an uneven Christmas tale with good intentions.I found it a big surprise that a film like this would come to the big screen at all. It looks pretty, the cast is mostly good, (aside from Susan Boyle who has the acting chops of a candlestick). The themes are nice, but the way they are presented didn't flow for me. I felt unfulfilled at the end. Aside from a one or two emotionally developed scenes, this film is rather lackluster in terms of screenplay. But this is not why I saw it. I saw it for one thing only, and that was Samantha Barks. She doesn't get a lot of screen time, but when she's present she glows. I can't wait to see where she will go. Celebrity crush aside, The Christmas Candle is a nice family film, that will probably be taken in by local Sunday schools. It wasn't my cup of tea, and I probably will never revisit it, but depending on your personal state of spirituality, you may find something to grasp on to. I watched this with my mom and some of the later scenes made for some water works, but I don't think that had much to do with the movie itself. Overall, it is probably the least satisfying movie experience I had in the theater all year. Not that the message wasn't a good one, but because both the aesthetics and script were lacking. I can't really recommend this The Christmas Candle. If you want to bring your family to the theaters this week see Frozen instead. If you have already seen it, see it again.
Grant Fitzgerald
I truly did enjoy all the acting except for Susan Boyle. I loved the cinematography. I did feel the story fell apart a little towards the end, but I did enjoy the movie. The message truly is about hope, daring to believe in the miraculous and how to love others well.
Michelle Bryant
Discussion Forum
Discuss The Christmas Candle on our Movie forum!