The Class Of '92
(2014)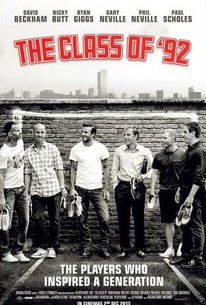 AUDIENCE SCORE
Critic Consensus: No consensus yet.
Movie Info
'The Class of 92' details the rise to prominence and global sporting superstardom of six supremely talented young Manchester United soccer players (David Beckham, Nicky Butt, Ryan Giggs, Paul Scholes, Phil and Gary Neville). The film covers the period 1992-1999, culminating in Manchester United's European Cup triumph. At the heart of the film is the tale of how six 14 year-old working class boys from diverse backgrounds came together to play for the same club, became the spine of the most lauded team in world soccer, and who throughout their period of unparalleled success remained best friends. (C) Official Site
Critic Reviews for The Class Of '92
All Critics (3) | Fresh (3) | Rotten (0)
An absorbing documentary about a football fairy tale - engrossing for any admirer of the beautiful game, but for United fans, it's unmissable.
This film deserves to be seen in the cinema as a result, because as Eric Cantona says himself, "it's the perfect script".
It's so entertaining even Liverpool fans will gobble it up.
Audience Reviews for The Class Of '92
½
British documentary film for lovers of real football centres on the rise of six young Manchester United footballers - David Beckham, Nicky Butt, Ryan Giggs, Gary Neville, Phil Neville and Paul Scholes - and details their careers for Manchester United starting in 1992. Directed by Ben Turner and Gabe Turner you will have a chance to see an inspiring football and young apprentices from Manchester United's FA Youth Cup win in 1992 to their full growth and Champions League triumph in 1999, which rounded off the Treble-winning 1998-99 season. The film cuts the narrative with the social and cultural changes taking place in Great Britain at the time, and even the war criminal Tony Blaire is excited talking about it! I was amazed that this documentary secured full access with all six players and even includes interviews with French football greats like Zinedine Zidane and Eric Cantona, former Manchester United youth coach Eric Harrison, film maker Danny Boyle and The Stone Roses bassist Mani. Inspiring times for inspiring individuals! I am not a great fan of Manchester United, but I could become one now! Lovely story of friendship, hard work and success!
Im of an age where I remember Uniteds Class of 92 when they came into the senior team. I specifically remember Ryan Giggs breakthrough and the impact that he had on the league. The number of players that came through from that team is unlikely to be rivaled again with players like Butt, The Neville brothers, Scholes and Beckham. Whilst I liked this documentary as a neutral (although ill admit to not having a lot of love for United) I cannot see fans of Uniteds rivals enjoying this as it is essentially a montage of Uniteds treble winning season. What I would have liked was more on the class of 92 that failed to make it and why this was so when so many of them did? Another annoyance for me was the inclusion of people like Tony Blair and some bloke from the Stone Roses (or was it the Happy Mondays, I forget) in a lame attempt to represent the times? Also add to this laughable comparisons with the city of Liverpool because of their success in the 60s and 70s coinciding with the rise of The Beatles. Danny Boyle (ive a lot of respect for him) also puts in an appearance and trys to suggest that the rise of the class of 92 was somehow down to Margaret Thatchers time as Prime Minister. So there you have it, the recipe for a successful footie team is years of financial and political decline so on this basis expect Greece to dominate the World football scene in years to come?
Justin Frazer
Super Reviewer
The Class Of '92 Quotes
There are no approved quotes yet for this movie.