The Committee
(1968)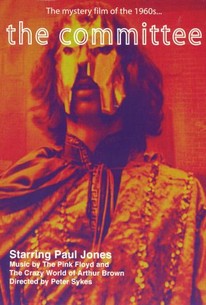 AUDIENCE SCORE
Critic Consensus: No consensus yet.
Movie Info
This short experimental feature follows a young man (Paul Jones, vocalist for the band Manfred Mann) who is picked up by a successful but self-satisfied businessman (Tom Kempinski) while hitchhiking. Bored and exasperated with the businessman's prattle, the young man succumbs to temptation while the mogul checks the engine of his Mercedes Benz, bringing the car's hood crashing down on the man's head. Feeling remorse later on, he sews the businessman's head back onto his body, with the victim seeming no worse for wear. Years later, the young man is working with an architectural firm when he's called upon to join a committee led by a powerful government official (Robert Lloyd). It soon becomes obvious that along with his other duties, the man is asked to account for his actions, which could easily have led to another man's death. The Committee was shot on location at the London School of Economics, and features a musical score by Pink Floyd, which was composed and recorded shortly after Syd Barrett left the group. Influential theatrical rock combo The Crazy World of Arthur Brown also performs in the film.
Critic Reviews for The Committee
There are no critic reviews yet for The Committee. Keep checking Rotten Tomatoes for updates!
Audience Reviews for The Committee
You're probably expecting some silly, psychedelic curiosity (ooh, Pink Floyd and Arthur Brown!), but this film's goals are surprisingly highbrow. The script's dark, surreal satire is more likely to recall Camus, Orwell and Kafka than Timothy Leary. The heart of the tale involves a world where, similar to jury duty, people are called away to serve on philosophical commitees for varying lengths of time. (One experienced participant remembers that his past group simply had to decide which of five oranges was the roundest.) Along the way, some vaguely drawn ideas about non-conformity and the individual's place in society dart in and out of the frame. The film's short duration doesn't allow such themes to be fleshed out, but perhaps it's just as well. Note that the lead character (credited only as "Central Figure") is portrayed by Paul Jones, the ex-Manfred Mann singer who starred in the equally bleak, rock-star satire "Privilege" around the same time. The Pink Floyd aspect is minimal (some organ-led noodlings such as heard on Ummagumma and More), but you do get an outrageous, onscreen performance from Brown, complete with flaming helmet. I regret that the other user review spoils the climax of the opening hitchhiking sequence, because I think this would be better left as an unexpected shock.
Eric Broome
Super Reviewer
The Committee Quotes
There are no approved quotes yet for this movie.
Discussion Forum
Discuss The Committee on our Movie forum!