The Con Artist
(2010)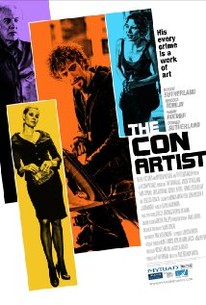 AUDIENCE SCORE
Critic Consensus: No consensus yet.
Movie Info
A notorious car thief endeavors to reinvent himself as an emerging artist after being paroled from prison, only to find that his former handler isn't willing to let him go without a fight. Vince (Rossif Sutherland) did the crime, and served his time. Now that he's a free man again, he wants to become a sculptor. When Vince's unusual metal sculptures catch the attention of sophisticated art dealer Belinda (Rebecca Romijn), the former bandit takes the art world by storm. Meanwhile, Vince's former boss Kranski (Donald Sutheland) vows to do everything in his power to get his best operative back to work -- even if it means playing dirty.
Critic Reviews for The Con Artist
There are no critic reviews yet for The Con Artist. Keep checking Rotten Tomatoes for updates!
Audience Reviews for The Con Artist
Car thief(Rossif Sutherland) turned Outsider Artist, making large Art out of Junk, Car Parts,& Scrap Metal for himself gets discovered when he gets in a car accident with an Art Dealer(Rebecca Romijin) & wants to go straight & just be an Artist, but his Mentor & Boss(Donald Sutherland) just won't let him out.Entertaining, but forgettable
Marilee Aschwanden
I am usually not the biggest fan of Canadian cinema, but I fell in love with the film instantly, it made me actually wanna go and visit Toronto and wish I was in this cool crime art scene, and hangout with some of these characters. This a rare gem you just stumble across and can't get out of your head, I wish I had another film I could watch that was the same, but alas there is not, this is a one of a kind movie just like a rare art piece you see in an art gallery. Something about this film just resonated with me like when you fall in love with a piece, in a gallery. MOVIE DICK OVER AND OUT
mike hawke
A Canadian Gone in 60 Seconds? Tepid plot, talentless cast (elder Sutherland excluded) make this film one of the worst I have seen. There is some potential for fun moments and a decent crime but this cast and the direction completely butchered every possibility of it being good. Lets just mention that the main actor is Donald Sutherland's younger, untalented son and he needed a vehicle to get into better movies. This feels like it but the guy is so utterly talentless that even his dad (who phones in this one) can't save him. Rebecca Romjin is kinda losing her looks and considering that she was never that good as an actress, is not the greatest choice for this movie. The timing of the movie is so tepid that you kinda stop caring somewhere in the middle of this movie. The portrayal of most of the characters was just awful. Donald Sutherland had no menace and no teeth as the crime boss. The Russian mobsters were a caricature. The other criminals were inconvinginc. Rebecca Romjin makes a poor gallery owner. The only actor and in a minor role that seemed to do the job well is Germann who portrays a somewhat fruity art connoisseur. I personally would advise the viewer to skip this one. A lot better movie is Gone in 60 Seconds.
Ira Rosenstein
The Con Artist Quotes
There are no approved quotes yet for this movie.
Discussion Forum
Discuss The Con Artist on our Movie forum!