The Concert (Le concert)
(2010)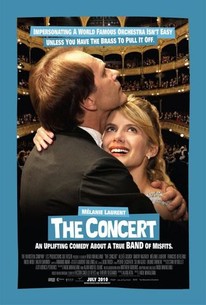 The Concert (Le concert) Photos
Movie Info
Thirty years ago, Andrei Filipov was the conductor of the illustrious Bolshoi orchestra until he was fired for using Jewish musicians. Now he works as a janitor and drinks too much. But when he intercepts an invitation for the Bolshoi to perform in Paris, Andrei masterminds a plan to gather his own Bolshoi to go in their place in order to make a triumphant return to the music scene. With a motley bunch of former musicians at his side, Andrei sets off for Paris to fulfill his destiny and return to his glory as a great conductor. Along the way, he will reunite with a young, beautiful violin virtuoso who holds the key to his past and to his future.
News & Interviews for The Concert (Le concert)
Critic Reviews for The Concert (Le concert)
Audience Reviews for The Concert (Le concert)
This is a movie that's more concerned with being a crowd-pleaser than it is concerned with telling a compelling story that focuses on the anguish a musical director must feel when his biggest passion is taken away from him for over 30 years. I think the film's plot mainly revolves around Andrei's obsession with getting the concert up and going rather than the torture of being away from the music he's loved for over 30 years. The film also tells the story of how Lea, Anne-Marie's mother, was driven mad by what happened when the concert was stopped halfway through. This part of the film I found to be a little ridiculous and overly melodramatic. She lived the rest of her life, as she was arrested by the KGB and made to work in a forced labor camp with her husband, obsessed with Tchaikovsky and pretending to be playing the violin. Thankfully, they left this reveal until the very end so it couldn't have made much of an impact on what has already happened, but it was a really silly attempt at melodrama. The rest of the movie is definitely hit and miss with the comedy not always clicking and feeling really broad. But I think the film makes up for this with a good cast and an incredible climax. The concert itself is pretty much the highlight of the film. You don't have to like classical music in order to appreciate the artistry and the beauty in display during this concert. There's this emotional release, and perhaps that's the wrong term but that's the closest thing I can come to describing it, when you see the orchestra completely shattering everyone's expectations and putting on a beautiful display of music. And they let this concert go on for a while, they don't cut it down to fit a 3 minute window. They let it go on for at least 10 minutes, maybe even more. They let it have the time it deserves in order to give it the most impact. And, again, it is tremendous and definitely the highlight of a hit and miss movie. It's just that the film had problems with its identity. It wasn't sure if it wanted to be a drama or a comedy. It had to be one or the other in this case instead of successfully mixing the two. Not letting the drama undercut the comedy and vice versa. Still, this is a movie that's meant to be a crowd-pleaser more than anything else and it's a pretty good one at that.
Jesse Ortega
Super Reviewer
A Russian composer arranges a reunion of blacklisted musicians to perform one concert in France. This film is nice but predictable. The third act reveal is obvious from the first moment, but that doesn't change the fact that some of the clashes of cultures are entertaining. Melanie Laurent is lovely and brings some depth to a cliched role. Overall, you know what's going to happen at the end, but The Concert is nonetheless not a bad time at the movies.
Jim Hunter
Super Reviewer
"The Concert" starts with another good reason for cell phones being banned as Andrey's(Aleksey Guskov) goes off, interrupting the rehearsal of the prestigious Bolshoi Orchestra. In revenge for his being prohibited from rehearsals, Andrey, a lowly janitor, intercepts a fax meant for management from the Chatelet Theatre in Paris seeking a replacement for the Los Angeles Philharmonic who had to cancel due to the Stanley Cup Finals.(Go Kings!) Once a famed maestro, Andrey puts together a plan to substitute his own orchestra, using musicians once banned by the Party and ironically employing Gavrilov(Valeriy Barinov), his former nemesis, as his go-to guy. At firs,t things go well, as they get Anne-Marie Jacquet(Melanie Laurent) to be their soloist over the objections of Guylene(Miou Miou), her agent. But everything else had better go as planned or Irina(Anna Kamenkova Pavlova), Andrey's wife, will show Gavrilov a thing or two the KGB never dreamed of. One of the earliest and most common plots involves putting on a show, especially if it involves huge odds. That's certainly true with "The Concert" but it is interested less in overcoming the obstacles(it would have been nice to have seen more of the musicians' adventures in Paris), than in some of the crimes committed by the government of the Soviet Union. So, it is kind of weird that twenty years after a change of management in Russia, that none of the musicians have been properly rehabilitated. Whether that's the fault of the film or the country, it is hard to say, even if there are some details here about modern day Russia. After all of the confusion and contrivances, there is an ending and with it a glorious climax, existing simultaneously in the past, present and future.
The Concert (Le concert) Quotes
There are no approved quotes yet for this movie.