The Conquest
(2011)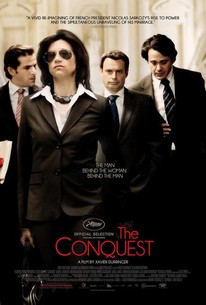 Movie Info
The Conquest chronicles the volatile right-leaning Nicolas Sarkozy's startling rise to become President of France and the emotional and psychological stakes involving the conquest of power. On the day the diminutive Sarkozy conquered his ultimate ambition, his wife who for twenty years had struggled to pull the man she loved from the shadow into the light walked out on him for another man. -- (C) Music Box
Rating:
NR
Genre:
Directed By:
Written By:
In Theaters:
On DVD:
Box Office:
$194,888.00
Runtime:
Studio:
News & Interviews for The Conquest
Critic Reviews for The Conquest
Audience Reviews for The Conquest
As Nicholas Sarkozy(Denis Podalydes) wakes up on election day in 2007, it starts out well enough as he wins the vote in New York and Israel. But he is still worrying about the whereabouts of his wife Cecilia(Florence Pernel) and more importantly whether or not she will be voting with him. However, that is nothing compared to five years previously when President Jacques Chirac(Bernard Le Coq), feeling Sarkozy would only lose in a national election due to his conservative politics, chooses Dominique de Villepin(Samuel Labarthe) to be Prime Minister, leaving the Ministry of Interior to Sarkozy. "The Conquest" seeks to dramatize Sarkozy's rise to power by also undermining him by showing that the only way he got elected was in the media's preference of personality over policy. While possibly not wrong, it is a neat trick that the movie never quite pulls off, as it also falls into the same trap by mostly avoiding politics except by mentioning Sarkozy is pro-American.(Which I guess might be the same as being pro-French here in the States, I suppose.) As far as being satire, not much, except for the jaunty soundtrack and one masterful shot that starts with Sarkozy eating alone, before panning to the press who then rush off to cover Villepin on the beach. The only irony comes when Chirac says the socialists will never win an election in France. Who knew? Plus, Podalydes gives one of those performances usually seen on Saturday Night Live where a performer does an impression by picking on a singular personal tic and then hammering it into the bedrock.
The Conquest is interesting in that it shows only exactly what is necessary to run a successful political campaign. It's just interesting that the movie's idea of "necessary" only includes talks and schemes behind closed doors. In a lot of political drama, we always see a juxtaposition between the public side and the private side. However, the Conquest is all about being in places that only actually matter. Which isn't out in the public getting in touch with the people electing the figure, but discussing with a few select individual in the powerful ruling class. It's a nice idea and message but that approach can't carry the entire film. Denis Podalydes' performance as the very ambitious Sarkozy is chilling to watch at times and that definitely helps but the film peters out in the final half where there doesn't seem to be much of a point to the plot's conclusion. The Conquest is a film that's satirical while still trying to be respectful and that's very admirable, but there are a lot of times where the film plays it a little too safe and ends up not really developing anything. It's a fascinating watch, but you have to invest a lot in order to get the most out of this movie. Yet, when it all comes together, you do appreciate it that it showed restraint to not overplay the political game as so many political movies do to try to push the drama. Director Durringer really understands how to capture the, almost farcical, nature of french politics while writer Rotman showed extreme discipline in the writing to keep the melodrama at a minimum.
J.J. Wang
Well worth seeing. A window into the life of the current French president, Nicolas Sarkozy, when he was angling to become president in 2007. In the context of the American skirmish going on in January 2011, a political scene worth looking at.
Georgia Lloyd
The Conquest Quotes
There are no approved quotes yet for this movie.
Discussion Forum
Discuss The Conquest on our Movie forum!