The Corndog Man
(1999)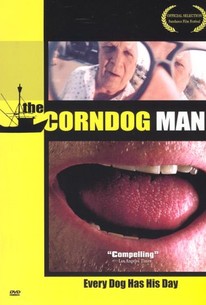 AUDIENCE SCORE
Critic Consensus: No consensus yet.
Movie Info
Noble Willingham stars as Ace Barker, a duplicitous redneck whose ugly past starts to catch up with him in The Corndog Man. Ace is a boat salesman, and one of the best in his part of South Carolina. One day, he gets a phone call from someone who claims to be in the market for a boat, but before long it's obvious that this caller isn't interested in a day on the water and actually harbors ill will against Ace. It seems that despite his salesman's exterior, Barker is a vicious coward with a racist streak, and he turned his back on a black friend who needed help while in the Army. Barker's new stalker isn't about to let him forget this -- and he also knows about a few of Barker's more recent sexual indiscretions. Ace's nemesis is played by Jim Holmes, who also co-wrote the script with Andrew Shea (who also directed) and David Steen.
Rating:
NR
Genre:
,
Directed By:
Written By:
In Theaters:
On DVD:
Runtime:
Studio:
Vanguard
Critic Reviews for The Corndog Man
There are no critic reviews yet for The Corndog Man. Keep checking Rotten Tomatoes for updates!
Audience Reviews for The Corndog Man
My friend fell asleep watching this movie and that's a shame. Noble Willingham delivers this character 100%. Its just a shame that the rest of the movie doesn't live up to the standard he sets from the opening credits.
Skyler Bartels
[font=Tahoma]I found The Corndog Man at a flea market for $5.00. I'd never heard of it, but thought it might be one of those rare gems. I think I was right. A lot of people don't like this movie because it's "annoying," and I admit that the first time I watched it, I didn't pay much attention and had to turn it off. I finally decided to give it a chance and really pay attention. I liked it. I watched it again last night and still liked it.[/font] [font=Tahoma][/font] [font=Tahoma]The Corndog Man is a revenge film, but you don't really know that until the end. Noble Willingham plays Ace Barker, who sells boats. At the beginning of the movie, you see Ace talking to someone on the phone about a boat, and you see another man arriving in town. Soon after, the unseen man is calling Ace. First he acts interested in a boat, but it gets ugly shortly thereafter. The calls keep coming, the man gets meaner, and Ace gets angrier. The entire movie, you wonder why this guy is doing this to Ace. Ace is a very funny character, with all his anger and vulgarity. It's about like anyone would be, with this guy harrassing you constantly and knowing your every move. The calls eventually affect Ace's boat sales and practically ruin everything.[/font] [font=Tahoma]When the reason behind the harrassment is unveiled, it comes as a slight shock. Although, with my second viewing, I noticed the racist comments more. The first time, I thought Ace deserved it for what he did. The second time, I think enough time had passed for him to be forgiven, but Ace surely didn't seem to want forgiveness. He didn't seem to care at all (but after the guy driving him crazy, I don't know if he should care), and he still spouted racist comments. So it's up to you whether you think Ace deserved it or not, I guess. [/font] [font=Tahoma][/font] [font=Tahoma]Still, I think it's a very interesting story, and Ace is a great character whether you like him or not. The music is also fitting. The cinematography is nice too, because it shows some very different angles and points of view. I like how it didn't show the caller's face, but it showed everything else. I like the shot where Ace goes to get a corndog and his reflection is seen in the sunglasses of the caller. So, all in all, I liked it, but I can understand why others wouldn't.[/font]
Vanessa Barfield
"The Corn Dog Man" is one of those rare psychological thrillers that strikes the perfect balance between comedy and suspense. The laughs are perfectly dark, the pace is relentless and the tone is ominous. Ace Barker is a good ol' boy boat salesman at Triple K Marine Sales in Bougherville, SC. When we meet him he is on the phone with a potential customer who is interested in buying a very particular boat. Ace, eager to make the sale, goes all out for the customer but soon discovers this customer wants more from him than a boat. The phone calls from the customer to Ace seem annoying and childish at first, harmless even, but we soon see that something else is at work here. The caller begins to stalk Ace, contacting him multiple times during the day to ask him silly questions or to let him know that he sees him. What follows is a harrowing journey through Ace's shameful past, a past fraught with racism and a shameful moment of cowardice and ugliness that ultimately contributes to the collapse of his life and mind. Noble Willingham gives a superb performance as Ace, a small man of monumental weakness. He is the oldest salesman at his dealership and is surrounded by younger, hungrier salespeople whom he competes with tooth and nail for sales daily. Ace is a toothless hound chewing on an old houseshoe; Triple K Marine Sales has seen better days and so has Bougherville, SC. But some things never change, such as Bougherville's barely covered racist attitudes and ignorance. "The Corn Dog Man" is essentially a one-man play, with the only speaking parts belonging to Ace and the customer, who we never really see. The dialogue is top drawer; we get to see how Ace begins to slowly unravel as this caller works, works, and works his nerves. For all intents and purposes, he is a voice on the phone, not overtly violent or hateful but most definitely aggressive and calculating. Like a spider he spins a web for Ace slowly and methodically then, once he has caught him, proceeds to torment his mind and suck the life out of him until an empty, hollow shell is all that is left. And he does it all from a motel room telephone. The verbal and psychological jousts that occur between the two men are just extraordinarily written; both textured and nuanced we learn just as much about Ace between verbal bashings as we do when he's actually in high hell gear. The cinematography is perfect in depicting Boughersville as the town that time forgot. It looks like the 1960's; the town is still segregated and its citizens still eye each other with suspicion and uneasiness. When Ace goes to a bar on the Black side of town to rendezvous with his transvestite barber/lover, the seething resentment in the eyes of the bar patrons is palpable. The racism of Boughersville is both overt and covert in this film; the name of the boat dealership itself, Triple K, is very telling and the personage of the dealership's elderly owner is spot on. His white hair is combed into a peak on the top of his head but this is no faux-hawk, this is a Klan hood. The only woman in the film is the dealership's receptionist, an utterly atrocious creature who turns tricks with her male coworkers on the job between sales. This is a nonspeaking part, but her actions speak volumes to us; she is one part of a trinity, the other being the tranny, and the third being the woman who all this is really about. Her role as White whore contrasts nicely with the Black Madonna figure of the third woman; the tranny, a male prostitute, works the middle as a fulcrum. Although he is treated with respect by the members of his community, once he steps over to Ace's side of town he gets the full Monty from the guys at Triple K. Once again we see the white male dominance of this town. Ace's younger co-workers and sales competitors are losers; they are second-rate salespeople in a third-rate town whose futures are about as bright as bottomless pits. Their frat boy antics consist of peeping at the receptionist through a hole in the restroom wall. This tells us that Boughersville is also sexist and that its women are just as oppressed as blacks. The receptionist is doing what oppressed women with limited options do in her situation; she manipulates and controls the men who think they have power and control over her through sex. Uneducated and ignorant, her options are slim to none that she'll rise above Boughersville, so she uses sex to weaken and subdue her oppressors. Ace's tranny trysts are indicative of the severe repression he's living under in that town. He is not an evil man; he owns a guinea pig as a pet, he's capable of affection. What Ace is is a sensitive, repressed man trapped in an oppressive stratum of society that strangles its members from cradle to grave by forcing them to conform to outdated behaviors, mores and attitudes that have been disproved and overturned by the rest of society. When Ace finally cracks under all this pressure, we feel for him because we know that he could have been so much more if he'd only gotten out when he had the chance. The plot of The Corn Dog Man is intricately woven and nicely paced. The denouement is logical and intelligently written. The dialogue is superb and Noble Willingham's performance is nothing short of awesome. He makes us feel for Ace, a weak and racist coward, and that's a hell of a thing to do. This is a thoroughly satisfying tale of revenge and suspense that will keep you involved to the very end. Enjoy!
Patricia Calloway
The Corndog Man Quotes
There are no approved quotes yet for this movie.