The Corner
(2000)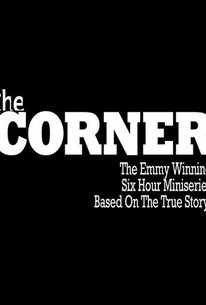 AUDIENCE SCORE
Critic Consensus: No consensus yet.
Movie Info
The toll that drugs and crime have taken on an economically-depressed African-American neighborhood in Baltimore paints the backdrop for this miniseries produced for and initially aired by the premium cable network HBO. Gary McCullogh (T.K. Carter) was once a hard-working man with an education and a solid career, but after succumbing to the lure of heroin, Gary has lost his job, home, and wife -- and now steals whatever he can find to support his habit. Gary lives with his girlfriend Fran Boyd (Khandi Alexander), who is also addicted to heroin. While she's all too aware of the pitfalls of her life and wants to clean up, she has trouble getting medical help and her willpower is too weak for her to kick the habit by herself. Fran's 15-year-old son DeAndre (Sean Nelson) has seen enough of his mother's troubles to be wary of using drugs, but while he would prefer to stay on the straight and narrow, dealing crack is one of the few job options open to him in his neighborhood, especially after his allergy to seafood causes him to lose a job in a restaurant. The Corner was based on the book of the same name by Edward Burns and David Simon, which examined one year in a real-life Baltimore neighborhood; Simon collaborated on the teleplay with David Mills, and noted actor Charles S. Dutton directed.
Rating:
NR
Genre:
Directed By:
Written By:
On DVD:
Runtime:
Studio:
Blown Deadline Productions
Audience Reviews for The Corner
Nothing worth writing about happened today, I'm procrastanting on doing my astronomy lab. I think my boss is purposefully vague when he talks to me so he can have a reason to be angry. Oh well, Im pretty good at ignoreing him when he acts like an ass. My cell phone is busted. Luckily my new job gave me a cell phone today. Thanks to my new job I'll be able to pay rent only a week late. I should start my lab work I guess.... blah.... Im not even doing anything cool, just inputing other peoples data into equations. What type of lame lab doesn't even let you collect your own data? Maybe I'll rate some movies I've seen recently before starting on my lab...
Jeff I
The Corner Quotes
There are no approved quotes yet for this movie.