The Corridor
(2010)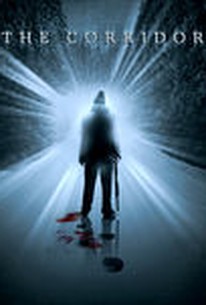 AUDIENCE SCORE
Critic Consensus: No consensus yet.
Movie Info
Five guys head into the woods for a weekend of male bonding at a remote cabin, but find their sanity starting to slip after stumbling across an enigmatic supernatural corridor amongst the snow-covered trees. As each begins to experience a bizarre psychic transformation, the terrifying truth about their discovery slowly comes into focus. ~ Jason Buchanan, Rovi
Rating:
NR
Genre:
, ,
Directed By:
Written By:
On DVD:
Runtime:
Studio:
Critic Reviews for The Corridor
Audience Reviews for The Corridor
½
It had the makings of a mediocre little movie in its own genre but degenerated as they found the corridor.
Dave Vegan
Watching The Corridor I felt like I was watching a cheap version of Stephen King's The Dreamcatcher.I probably should've turned it off after watching the 1st 10-20 minutes.It started off boring & with about 30 minutes left, I was thinking why haven't I turned it off already?! Still I watched it till the end & I was so happy when it was over.I wonder why didn't I turn it off when I 1st thought about it?
Brody Manson
Super Reviewer
One line summary: Boring screenplay leads slowly to a pointless conclusion. ----------------------------- Five young men (not teenagers) get together for a retreat in the woods. It's in snow country, and there is a lot of snow. That's good for snowball fights, snow angels, yelling for the sake of yelling, and yellow snow. Okay, so they are older, bigger, stronger, and more accomplished than teens, but still exhibit some of the same behaviours. Tyler is mentally disturbed, in that he witnessed his mother die from overdose, and just might have had something to do with the dying part. Then he spent time in a mental institution to deal with it. Nice beginning, I suppose, but it casts doubt on all that follows. Are the proceedings supernatural, or is the whole film just about the extended delusions of an unbalanced mind? Is the film supernatural horror or psychological drama? Sigh. Tyler makes a big deal of going away from the others to spread his mother's ashes in a spot nearby that was of some significance. He chats about it when he gets back. Is he OK? Is he OK to drink alcohol? Jim figures he's 'shooting blanks;' that is, does not have viable seed. He's trying to figure out how to tell his wife. Bobcat has lost his hair, but gained a lot of kids, and likes to play recorded football games. Everett and Chris both play guitar. They catch up through talking. This is all rather dull through the first 36 minutes. Then the weirdness and SFX start up. Of course Tyler witnesses it first; he's the least likely to be believed. He sees bright light in the middle of darkness, and sees an odd being who looks just like his dead mother. Tyler confides in Chris, who promises to go with him in daylight. There is a bit of transition, but the other four witness what Tyler experienced. Together they set about exploring it. Driving a snowmobile through it does not work; the motor stopped. Their telephones do not work. All of them feel great, but they all start having nosebleeds. Everett stays; he wants to experience more right away. The others decide to go back to the cabin. They try to figure out how to monetize it. Not surprisingly, they start having contentious exchanges; the possibility of huge amounts of mostly free money seems to open their ability to irritate each other. Everett meets Lee Shephard in the woods; Lee offers to help fix the non-functional snowmobile...then he witnesses the corridor of lights. Lee takes to it quicker than all the others. Everett notices this and garrotes him. Their behaviour continues to become more weird. Tyler starts to look like the most sane one of the bunch. The corridor expands to the cabin. Will the friends survive this experience? -------Scores------- Cinematography: 6/10 Handheld camera for some sections, uninspiring for the others. Sound: 8/10 Mostly good. Acting: 6/10 Competent, but not engaging. The actors were good soldiers. Unfortunately, the best actor by far, Nigel Bennett, had very little screen time. Screenplay: 0/10 Pointless.
Ed Collins
The Corridor Quotes
There are no approved quotes yet for this movie.