The Creeping Terror (Dangerous Charter) (The Crawling Monster)
(1964)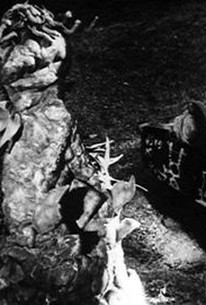 AUDIENCE SCORE
Critic Consensus: No consensus yet.
The Creeping Terror (Dangerous Charter) (The Crawling Monster) Photos
Movie Info
Considered by many to be one of the worst films of all time, this hilarious anti-classic riffs on its one-note premise of two gigantic piles of crudely-stitched carpet swatches and rubber tubing running rampant through a hick town. The two monsters are alien sample collectors who are studying human weaknesses.
Critic Reviews for The Creeping Terror (Dangerous Charter) (The Crawling Monster)
All Critics (4) | Fresh (0) | Rotten (4) | DVD (2)
The Creeping Terror didn't need Mystery Science Theater 3000 to earn its Hall of Shame standing; it's long been regarded as one of the all-time worsts.
It's a rug -- a rug with tennis shoes. How's that for terror?
February 2, 2003 | Rating: 0/5
You've seen clips of this one in those "awful, awful movies" documentaries.
July 26, 2002 | Rating: 1/5
Audience Reviews for The Creeping Terror (Dangerous Charter) (The Crawling Monster)
Wow, how can I possibly give this "movie" a half star, as opposed to no stars? The Creeping Terror is, hands down, the worst "movie" I have ever seen in my entire life. I've watched a lot of crap, and found some redeeming quality to some of it, but this one just doesn't have anything even remotely redeeming about it. If the Mystery Science Theater people haven't picked up on this one yet then they need to. This definitely needs both laughs and ridicule - there's got to be something good coming out of this crap. It has horribly long sequences with what looks like an overgrown carpet that's supposed to be an alien monster eating people, with a terrible voice-over job explaining the entire plot with hardly any of the actors even speaking. The music is absolutely atrocious, as well. Throughout the "movie," they use the same sound of a woman screaming on a loop when a woman is being eaten by the monster. It also involves a newlywed couple, who are trying to convince their friends that "marriage is great" while they make out on the couch in front of them. I tell ya, I'm blown away by this level of crap. Skip it, trust me. You don't want to see this.
Tim Salmons
Super Reviewer
This movie came from the Drive-In Cult Classics 8 movie Collection From BCI and I must say out of all the movies in this collection and that I have seen over the years this one is the worst. Pure Crap from start to end. If I had seen this movie when it came out on the big screen, I would have demanded my quarter back as I am sure that's what it cost to see this one, and I'm sure the drive-in lots were bare for the playing of this one. About a monster that lands on earth, time and time we get a background commentary that sucks, the monster looks like some sort of gone bad fifties shag carpet that runs around eating people which seems to be pretty easy as no one seems to run. After seeing my buddy scream and disappear while crawling into a rocket ship from another planet (with English language dials and meters (those dam US contractors will sell to anybody) you couldn't get me in that ship. Bottom line is film sucks so bad all you can do is laugh. 1/2 star
Bruce Bruce
Super Reviewer
When Carpets Attack! A hilarious piece a crap starring a throw rug as an alien attacking teenagers at a dance.
The Creeping Terror (Dangerous Charter) (The Crawling Monster) Quotes
There are no approved quotes yet for this movie.