The Crossbreed
(2017)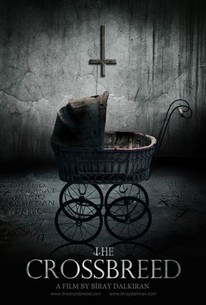 AUDIENCE SCORE
Critic Consensus: No consensus yet.
Movie Info
Amy and John are a married couple who live in California. They work in a press office as journalists. Amy is pregnant with twins! But she keeps them secret. Amy's friend, Rose, knows that Amy does not want to see these babies in her life. She wants to help her and convinces Amy to get an abortion. They go to a veterinary together. Editor Stephen gives a task to them and send the couple to an American village to research some mysterious events. One of these events is about a devil story: "The nightmare was about a demonic possession. A long time ago, there was an evil in a small town and it was jealous of the girl and would never let her go, since the devil loved the girl. One night, the evil raped the girl and she became pregnant. After months the girl could not hide her baby, her father figured her secret out and clapped the girl in irons and locked her room door. But the evil put the gun to her father' temple and saved the girl. The father had a stroke and had been sleeping on the bed for three months and died. Time went on and the girl brought a child into the world. Naturally, people who were living in the village heard the story and they did not want to see neither the girl nor the baby since when the baby was born, plants dried in the field, fishes lost in the lake and people had prayed to the god for rain, but nothing changed in the village. People got so angry, dug a hole in front of the fountain, put her into the hole and threw stones at her face. The girl died soon after. The evil went off the deep end, took a revenge of the village and killed everyone except two sisters because the evil wanted them to take care of its baby..." Amy and John arrive in town and meet with a priest, Paul. Local people do not like the couple or any newcomers, since they have no peace in the village because of the mysterious events. By the time Amy and John begin to face strange and mysterious things, they want to leave the village. They find out that "The Crossbreed" is there and they understand that it is too late for them!
Critic Reviews for The Crossbreed
There are no critic reviews yet for The Crossbreed. Keep checking Rotten Tomatoes for updates!
Audience Reviews for The Crossbreed
Tough to review, becasue there is absolutely not a single thing that's memorable about The Crossbreed.
The Crossbreed Quotes
There are no approved quotes yet for this movie.