The Cuckoo
(2003)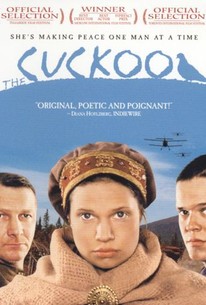 Movie Info
As Finland's withdrawal from World War II draws ever closer, a tentative relationship between an abandoned Finnish soldier, a Lapp woman, and a Russian captain accused of anti-Soviet correspondence offers momentary solace to a trio of lost souls. Dressed in a German uniform and tied to a rock after being branded a pacifist by his fellow soldiers, Finnish sniper Veiko (Ville Haapasalo) attempts to break free before being spotted by Russian soldiers and shot. Peering through the scope on his rifle after finally escaping, Veiko bears witness to the accidental bombing of a Russian envoy carrying a captain accused of collaborating with the enemy. As Anni (Anni-Christina Juuso), a Laplander whose husband is off to war, scavenges for food, she runs across the bombing and finds disgraced soldier Ivan (Viktor Bychkov) clinging to life. Bringing him back to her house to nurse him to health, Anni is shocked when Veiko arrives in search of tools to remove his shackles. As language barriers keep the threesome from effectively communicating, Ivan's suspicions that Veiko is actually a German soldier begin to mount. Veiko and Anni's bond begins to grow, and as the lonely widow seduces Veiko, Ivan's jealousy and suspicions culminate in an attempt to murder the hapless Finnish sniper.
Critic Reviews for The Cuckoo
Audience Reviews for The Cuckoo
I just love this movie... The Cuckoo (Russian: Кукушка, Kukushka)is one of the funniest and best anti-war movies I've seen! Perfect for the film students to learn how to do perfect photography, screenplay and directing! Russian Federation National Award in the Art and Literature Area was awarded to the crew of the film; to the director and the author of the screenplay Aleksandr Rogozhkin, producer Segei Selianov, main cast Anni-Kristiina Juuso, Ville Haapasalo, Viktor Bychkov, director of photography Andrey Zhegalov, director of the film art Vladimir I. Svetozarov, composer Dmitriy Pavlov, sound engineers Anatoliy Gudkov and Sergei Sokolov... they all deserved it! Aleksandr Rogozhkin did amazingly smooth work of art which takes place during World War II from the perspective of opposing Soviet and Finnish soldiers stranded at a Sami woman's farmhouse. "Kukushka" was the nickname given by Soviet soldiers exclusively to lone Finnish snipers, who ambushed their targets from a purpose-built tree-branch-nest. Thus the title refers to both Veikko (the sniper) and Anni (a lone woman living in the forest, much like a cuckoo). If you have a chance to see it - do it now!
The Cuckoo Quotes
There are no approved quotes yet for this movie.