The Dead Undead
(2010)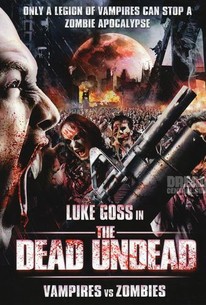 AUDIENCE SCORE
Critic Consensus: No consensus yet.
Movie Info
A small group of campers flee a mountain during a zombie outbreak, and wind up in a ghost town populated by sympathetic vampires. As the flesh-eaters close in, the blood-suckers offer safe harbor to the mortals, and wage all-out war against the rotting zombie horde. ~ Jason Buchanan, Rovi
Rating:
R (for violence and language)
Genre:
, ,
Directed By:
Written By:
In Theaters:
On DVD:
Runtime:
Studio:
Phase 4 Films
Critic Reviews for The Dead Undead
There are no critic reviews yet for The Dead Undead. Keep checking Rotten Tomatoes for updates!
Audience Reviews for The Dead Undead
One line summary: Wretched as a vanity flick, repellant as horror hybrid, bad SFX. -------------------------------------------------------------------------------------------------------------- Curtis, Travis, Summer, Megan, and Shelley arrive at a motel after a long warm drive in crappy truck. They all want to check in and takes showers. Trouble is, there is no management present. After a bit of a wait, they pick out rooms. A child vampire almost lunches on Megan, but the others intervene. Megan freaks out, but a shower and clean clothes fix it. Shelley freaks out over a mouse in her room. Summer watches (peep hole in the door) two vampires duke it out. Travis shoots some zombies. Megan turns after a couple of hours, and Curtis gets mauled by a zombie. A van runs over one of the zombies, then people (perhaps) with guns come out of the van: Jack, Gabriella, Aries, Doc, Viper, and a couple more. They proceed to mow down a couple of dozen zombies. They encounter Lance, who manages to convince them he's not infected. "Relax honey, we're the good guys." Comforting words. Zombie-Vampires (ZVs) are explained. They are hard to kill at night, but die in the daylight. The zv are fast, as opposed to traditional zombies. Aries gets a scratch; they let him tag along a while before he turns zombie and they kill him. He and Gabrielle discuss Valhalla. Great, very old vampires. The extended flashback to the meeting of Aries and Gabrielle was amateurish, bloated, stupid. Also, the yellow filter did not make it more interesting, just more repellant. Soon after Gabrielle detonates Aries, the team shoots her until she dies. Who knows when she got infected. Lance finally gets it that the commandos are vampires who are not also zombies. The zombie problem came from vampires switching to cows blood; unfortunately, someone ate a cow with mad cow disease. The flashback to Viper becoming a vampire was also not interesting. The flashback for Doc was just as stupid as well as repulsive. They used the ugly yellow filters again. It was good to see the Doc character die horribly, but not heroically. Vanity films usually suck rocks, and Eddie Conna's effort here is no exception. The ending does not help with any of the film's shortcomings, but it does hint at a sequel. -----Scores------- Cinematography: 8/10 Fairly good for film mostly shot at night. The weakest point would be the SFX. Sound: 2/10 Beyond boring and repetitive. Acting: 0/10 Next time, hire some actors. Screenplay: 0/10 Bad dialog. Ridiculous exposition of motivation. Zero characters to care about. Excessive flashbacks to cover the lack of top level plot. Useless cameo by Forrest J. Ackerman. Two blackholes for acting and screenplay.
Ed Collins
A couple of young campers are attacked by a zombie/vampire horde and are rescued by mercenary vampires. Upon first reading of the script, I thought the film was going to at least be entertaining, but it falls completely flat once the horde comes out and attacks. One: they just suddenly appear without question or warning except maybe for a child vampire appearing on one of the female campers while she was asleep. The child then flees into a crawlspace in the closet and then maybe one of the most annoying scenes of the film pops up involving a mouse. Luckily, all but one female camper are killed within the first half hour and then the rest of the film involves the mercenaries in an all-out war with plenty of bullets, blood, bad lines and crappy effects. Not to mention, each actor looks like they were reading off of cue cards the entire way through, except for maybe Luke Goss. And to make it all worse, it seems there will be a second part to this film, as evident from the final scene with Vernon Wells (Mad Max 2: The Road Warrior, Weird Science, Fortress). There is nothing going on here, unless to showcase another film where Luke Goss can express his tough-guy persona to the masses. I believe he should get back into another big lead role and stay away from Made-For-TV films like this.
Rob Cisneros
This starts off so bad that it almost begs you to stop/eject/frisbee. If you wait it out a bit, it gets slightly better for a while, then it actually gets watchable. At the end, my buddy and I were both hoping for a sequel. This is what I personally categorize as bad horror. It's a direct-to-DVD zombie film with a budget at just over a million dollars. While I still consider it bad horror, I thought it was pretty good bad horror. Is it three stars compared to other mainstream films I've given three? No, probably not, but for what it is, it's definitely three stars in my book. Vampires with mad cow disease indeed.
Gaspar Oot
The Dead Undead Quotes
There are no approved quotes yet for this movie.
Discussion Forum
Discuss The Dead Undead on our Movie forum!