The Deal
(2005)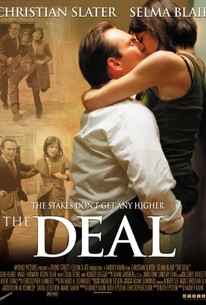 Movie Info
Money and power bring major corruption to the world's energy marketplace in this taut political drama. After a long war between the United States and a coalition of Middle Eastern nations leads to a gap in the flow of multinational oil trading, the price of gasoline in America shoots past six dollars a gallon and both the energy industry and the stock market are walking on thin ice. In the midst of this instability, Tom Hansen (Christian Slater), a leading advisor at of one Wall Street's top firms, is looking to hire new talent to help with his latest client, Condor Oil and Gas. Condor's CEO, Jared Tolson (Robert Loggia) used to employ Tom's best friend until the younger man died in a mysterious accident, and Tom is eager to do what he can for Jared. Tom hires Abbey Gallagher (Selma Blair) to assist with the Condor account; Abbey is a passionate environmental activist who is wary of associating herself with a major energy firm, but her mentor Prof. Roseman (John Heard) persuades her she can be an advocate for green concerns on the inside. As Tom and Abbey spend more time together, they become romantically drawn to one another, but Tom's love for her puts Abbey in great danger when she finds out what he knows about illegal oil trading operations and money laundering schemes that link Condor with the Russian Mafia. The Deal also stars Colm Feore, Angie Harmon, and Françoise Yip.
Critic Reviews for The Deal
Audience Reviews for The Deal
The storyline of "The Deal" has a good premise Unfortunately, the screenplay is confusing. The movie's uneven because its thrill factor is propelled through at least half way by withholding important facts about the plot. Both Christian Slater and Selma Blair are great though.
Pete Skeris
½
A solid thriller. The plot is timely, with echoes of Iraq, Wall Street corruption, chauvinistic politicians, etc.. The plot is full of twists but most are pretty predictable. The acting is solid. A very entertaining movie.
David Duncan
Corporations, Wall Street, Russian Mafia, U.S. government. Phony oil deal with lots of players. Betrayals and in-fighting. Simplistic, but seems complex and sheet-pulling on the back room and board folk. Not that good, but OK enough to pass time with.
Alaine B
The Deal Quotes
There are no approved quotes yet for this movie.
Discussion Forum
Discuss The Deal on our Movie forum!