The Delta
(1997)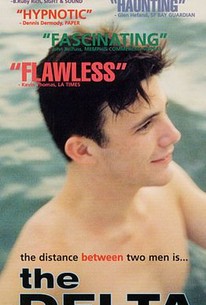 Movie Info
Two Southern men try to come to terms with their homosexuality. John is a Vietnamese immigrant, and Lincoln is a member of a Southern Jewish community. The two live in a small Southern town, and at one point they take a trip down the Mississippi River together.
Critic Reviews for The Delta
All Critics (5) | Top Critics (1) | Fresh (3) | Rotten (2)
This intimate gay drama, about the complex relationship between a white adolescent and a Vietnamese immigrant, displays a fresh voice but suffers from structural flaws and ultra-modest production values.


New York Times
Top Critic
San Francisco Chronicle
Top Critic
The film now seems more infuential and prescient than ever, a signature work that heralded a revived interest in 'Queer' cinema while pointing the way toward an ever more influential documentarian and micro-budgeted American independent film scene.

Commercial Appeal (Memphis, TN)
Audience Reviews for The Delta
Although Sachs cannot sustain the cinematic promise of The Delta's early sequences, his moral seriousness and technical finesse merit attention.
Lee Mayo
Thinks it is clever, but it really isn't. Long, boring scenes of teenagers out of parties put me to sleep for a brief minute or two. Lincoln's struggles with his identity as a gay or straight man is well played out, but another gay character, Minh (African-American and Vietnamese) is so obviously displaced from society that the sympathy for him becomes sickening. The ending of the movie is fun to discuss, but this movie is very pretentious.
Jordan Towles
½
Ok, the storyline & message are potentially substantial, however, like almost every other Indy, its narrative was once again amateurish, unorganized & loose.
WS Wu
Discussion Forum
Discuss The Delta on our Movie forum!