The Demon Within
(2001)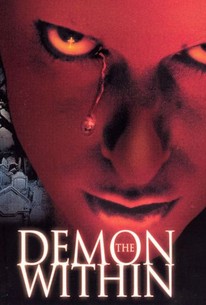 AUDIENCE SCORE
Critic Consensus: No consensus yet.
Movie Info
This occult thriller comes from director Ian Merrick and stars Katie Wright as Sarah, a young art student who finds her sculptures taking on demonic themes after she moves next door to a mysterious man called Dobie (Jeff Fahey). As it turns out, Dobie is an evil killer who is conjuring devilish spirits into Sarah. The Demon Within has also been released under the title The Sculptress.
Rating:
R (adult situations/language, sex, violence)
Genre:
Directed By:
Written By:
In Theaters:
On DVD:
Runtime:
Studio:
Phaedra Cinema
Audience Reviews for The Demon Within
The Sculptress (Ian Merrick, 2000) Thanks to a couple of wonderful browser plug-ins (Netflix Queue Sorter for Firefox and Netflix Sorter for Torch), I have the ability to sort my Netflix Instant Streaming queue by average rating. Which I do once a week if I've added anything to it. I usually have a perverse urge to watch, on my Tuesday work-from-home all-movie days, at least one movie from the bottom five in my queue, something that, basically, all of Netflix loathes. Last week's was Strippers vs. Werewolves, and I have to say I thought the masses were wrong, wrong, wrong about that one. Today's was the very bottom movie on the queue, The Sculptress, which is presently floating around Netflix-land under the title The Demon Within. It's not quite as bad as the movie that was at the bottom of the heap two weeks ago, before I watched that one (the ridiculous Fading of the Cries), but man, it did its best to get there. This is a movie so bad I don't even know where to begin telling you about its badness, so I'm going to quit typing, to to bed, and see if I can come up with some new words for "suck" while I'm sleeping tonight. Plot: the titular sculptress, Sarah (Idle Hands' Katie Wright in her final, to date, feature appearance), is a British student who has just transferred to a prestigious art school in San Francisco. She spends her first few weeks flat-hunting before landing a room in a building also inhabited by Matthew Dobie (The Lawnmower Man's Jeff Fahey), a seemingly out-of-work Shakespearean actor (you find out why he's always out of work pretty early on) who moonlights as a serial killer. She also draws the attention of hunky classmate Chris (Crosscut's Allen Cutler), a possible romantic interest, and obsessive professor Giraud (Panic Room's Patrick Bauchau), who is the first to notice that something is very amiss with Sarah-some of her work is very, very different from the rest of it (and, Giraud tells us, every sculptor's style is as individual as a fingerprint, so this doesn't make one bit of sense). She soon finds out, with the help of Giraud and psychic Madame Cleo (Rent's Vivis Colombetti), that she is a pawn in a demonic game much, much larger than any of its participants... It wouldn't surprise me if there were a pretty good script somewhere in the draft stages before this movie started filming. There are some fine ideas at the bottom of this, but they were all strangled by the time they reached the screen, by everything from Merrick (The Black Panther)'s questionable choices of camera angle at least once every five minutes to Jeff Fahey's hilarious (unintentionally, one assumes) overacting. And what we ended up with is just awful. *
Robert Beveridge
½
Every so often, a movie comes along that makes you wonder what everyone thought when they were making it and how they could have looked at the finished product and thought, "That was a good idea." This is one of them. Having an American actress maintain a fake-sounding British accent throughout an entire film when there's no good reason that her character needed to be British is a bad idea. Having the movie villain be some sort of unexplainable former priest/downfallen actor/demon is a bad idea. Including long conversations about the Louvre is a bad idea. Let's face it: making a pretentious, crawlingly slow movie about a possessed next door neighbor being an impotent incubus trying to get into the pants of an art student is a recipe for disaster, and this flick goes boldly into that catastrophic land. The only good thing in this otherwise lousy attempt at horror was that it was filmed in San Francisco, so the scenery is beautiful and I recognized many of the settings personally. If only the actors hadn't insisted on showing up and ruining it all, this would have been a far better film. "The Demon Within": You're better off without.
Brian Seitzman
3.5/10. The main problem with this movie is simple. It is stupid and boring. It has some cool effects, but there isn't much else going for it. The acting isn't bad. It is overlong at 101 minutes. Another interesting plot idea not utilized.
James Higgins
The Demon Within Quotes
There are no approved quotes yet for this movie.