The Deposition
(2011)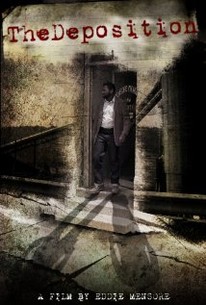 AUDIENCE SCORE
Critic Consensus: No consensus yet.
Movie Info
A man accidentally causes a car crash, which results in the death of his old flame. Soon, his life begins to fall apart, as he can't overcome the guilt and shame he faces both from his community and himself.
Critic Reviews for The Deposition
Audience Reviews for The Deposition
½
Directed (produced and written) by Edward Mensore, Emphatic Films, 2011. Starring Charles Rashard, Rachel Forbes and Nate Prestidge. Genre: Crime, Drama, Mystery Question: What causes some people to go crazy? What about being accused of killing someone you loved but you can't remember? Yep, that would do it for me. This is what is at the heart of the latest indie movie I just screened: The Deposition. I am still contemplating this story. The filmmaker sent me his first movie to review last week. (This film is not currently in the theaters but making the festival scene across the country here in the US.) I finally watched it today and I will say that as a first film by Edward Mensore this one is pretty good. It captured my attention rather quickly especially with the opening scene. The story is basically about a man, Adam Long, who is accused of killing his former lover in a car accident. However, he can't remember and he soon goes mad. He wants to remember desperately because he loved her so much but the constant racial remarks and threats pushes him over the edge. You see, Adam Long, is the only black man in an all white rural town somewhere in West Virginia. His only reason for staying in the town was because he loved Jill but now that she is dead everyone in the town doesn't hold back their prejudices. One thing that can make my blood boil is the ignorance that causes racism. Sorry to be so blunt. So that story-line pulled me right in and got my emotions running. However, there is a flip-side to the story. As the movie progresses Adam is portrayed, in flashbacks, as someone with a violent temper and that is why he and his girlfriend were no longer together. So, then I was conflicted. Can I feel sympathy for a character that is a violent man? Usually the answer is emphatically: NO! This movie intrigued me. Since this is a mystery I won't say much more about the details but I will comment on the parts I really liked. First, the score was great. All the songs really had a way of pulling you further into the emotions of the scenes. I will probably hunt down the soundtrack after this is all said and done. It's that good! Visually I thought the film was stunning. Movies are such a visual medium and when telling a story that doesn't use a lot of dialogue like The Deposition did, it is another way to help the audience live vicariously through the storytelling. I particularly liked one slow-motion scene of the car crash and some of the sequences where you think he truly has gone crazy. It really makes you think. When I got more into the story the more I was drawn in. I really wanted to know if he was going crazy or what was going to happen next. There are a couple of scenes that were hard to watch for me, but I have said it before in other reviews violence can be difficult to witness especially when it has anything to do with racism. Sometimes it is necessary to the story. However, there was one pinnacle scene where I nearly had my hands over my eyes - this was pure hatred and someone who was fed up and couldn't control his anger anymore. I felt a little weak in the stomach then. Regarding the story, yes, it kept me interested and, at parts, intrigued. Again, for a first time film-maker I was impressed. However, there were a couple of odd twists and turns that sort of lost me but over all the storytelling was good. The only part that perhaps wasn't the best was some of the acting - particularly by some of the side characters but it was so minimal it didn't really affect the over all film. I hope Hollywood gets a chance to see this one during some of the film festivals this year. Edward Mensore might just be onto something. My favorite thing: It's really a toss up between the music and the cinematography. My least favorite: thing: Some of the acting. Rating: R Length: 85 minutes Review: 7 out of 10
Tired of Previews
Super Reviewer
The Deposition Quotes
There are no approved quotes yet for this movie.