The Devil's Carnival
(2012)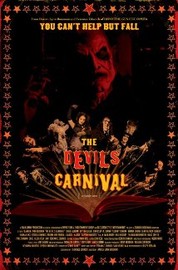 AUDIENCE SCORE
Critic Consensus: No consensus yet.
Tickets & Showtimes
The Devil's Carnival Trailers & Photos
Movie Info
This Brand New Horror/Rock Musical hybrid cinema short features twelve original songs, written by Zdunich and Saar Hendelman, directed by Bousman, produced by Sean E Demott and Joseph Bishara (Insidious), and stars Victoriandustrial rocker Emilie Autumn, Dayton Callie (Sons Of Anarchy, Deadwood), M. Shawn "Clown" Crahan (of the Grammy award winning, cult metal giants Slipknot), Briana Evigan (Step Up 2), Sean Patrick Flanery (The Boondock Saints), Maggie "Captain Maggot" Lally and The Blessed Contessa (of The Bloody Crumpets), J. LaRose (Insidious), Jessica Lowndes (90210), Mighty Mike (of Mini Kiss), internet star Hannah Minx, Ivan Moody (of the chart-topping heavy metal band Five Finger Death Punch), Bill Moseley (The Devil's Rejects), Ogre (of the legendary industrial band Skinny Puppy), Marc Senter (The Lost), Paul Sorvino (Goodfellas), Alexa Vega (Spy Kids), and Terrance Zdunich.
more
Cast
News & Interviews for The Devil's Carnival
Critic Reviews for The Devil's Carnival
All Critics (1) | Fresh (1) | Rotten (0) | DVD (1)
With the immense talent, the wonderful music, and the excellent genre twist, I was ready to re-watch it as soon as the credits finished rolling.
Audience Reviews for The Devil's Carnival
½
There is no denying it: Darren Lynn Bousman is a flawed director. When he makes films, his imagination is wonderful, but constantly makes mistakes with his films in terms of how he has the actors work. Same with the way the films are presented. In terms of his musicals, the main problem is with how the actors sing and their mouths are closed. Plus his pacing with the films are very flimsy. But for what he does lack as a director, he makes up for in his sheer audacity to do anything to make his films. In the case of The Devil'(TM)s Carnival, he proves he is only one type of director: an independent film maker.

What gets me about this film is that, in a way, it should have never been as good as it was. When a film is said to be an independent film, it is believed that there were no companies behind the film, the movie'(TM)s budget was taken directly from the cast and crew'(TM)s back pocket, and they done everything themselves. For the most part, this is false as there are some companies that will finance the film. With Bousman, literally everything was paid for by him: the costumes, the sets, the actors, everything. And what do we get? 55 minutes of pure hell on earth. And I mean that in the best possible way ever.

You don'(TM)t really expect much from a film this short, even more when the promotion was only from Twitter and Facebook and word of mouth. But, this film just works because of everyone'(TM)s dedication and the musical styling of Terrance Zdunich. Drawing on Aesop'(TM)s Fables and the novel Something Wicked This Way Comes by Ray Bradbury, The Devil'(TM)s Carnival is basically the fable of three sinners who have been thrown down into Hell and are forced to repeat their sins until they have learned their lessons. This is what gets me about Zdunich when he pinned the screenplay: while he does borrow from some works, he creates a beyond original film. In all of my film going experiences, I have yet to see a film like this. In comparison to his previous film Repo! The Genetic Opera (a rather great film, in my opinion), this is a much more mature film in terms of how the music is and the characters. As a film writer and actor, he does show that he is improving on himself and I just hope that his next horror musical will be just as good.

The only real drawback is the actors. With the exception of the three main sinners, none of them are really expanded upon. If this was one of my more typical reviews, I would automatically trash the film for that alone (film writing 666: characters must be flawed and human in order to be good). But when you realized that this is just episode one in a series of films that will tell the story of heaven vs. hell, you tend to realize that we will be given more time to expand on these characters. But from what we have seen, they make Hell look like a place that will be great to visit if you are interested in the macabre and evil. So, for this film reviewer, sign me up!

In promotion for this film, Bousman and Zdunich went on tour to promote the film. Basically they put the film in the back seat and drove all around America and Canada, showing the film at independent theaters and art houses. What is a sin is that one of their stops was at a theater that is located close to where I live. I might be sentenced to hell for not going. Oh well, as what this musical says: Fa, La La! It'(TM)s off to Hell we go!
½
Oooh, very cool. From what I saw, very cool. It's hard to see much, because everything's either shrouded in darkness or awash in yellow and red light, but damned if it doesn't sound good. The new songs are catchy and the new voices indeed are dulcet. I kind of wish I had a better handle on the story itself, or that I could make heads or tails of the imagery onscreen. Hell as a carnival is a really cool idea, but I wish they'd gone into more detail than "clowns are scary" as to why it is. There's so much to work with, and it seemed like this movie just skimmed the surface of the world they'd created. Fun Fact: Anton LaVey used to be a carnival barker.
Discussion Forum
Discuss The Devil's Carnival on our Movie forum!
News & Features