The Devil's Miner
(2006)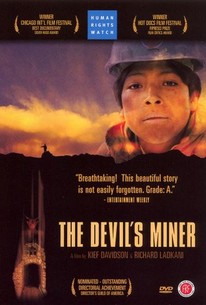 The Devil's Miner Photos
Movie Info
"The Devil's Miner" follows two brothers, 14-year-old Basilio and his 12-year-old brother Bernardino, who live in poverty with their mother in the mountains of Bolivia. They work long shifts in the Cerro Rico silver mines, braving deadly conditions to earn enough money to attend school. Daily the brothers go into the underground mining tunnels and tempt fate in order to gain a better life. Through the children's eyes, we encounter the sixteenth century mine, where devout Catholics sever their ties with God each time they enter the shafts, because of the ancient belief that the devil, as represented in the hundreds of statues constructed in the tunnels, determines the fate of all who work there. Raised without a father, the boys assume many adult responsibilities and must work to afford the clothing and supplies vital to their education. Basilio believes only the mountain devil's generosity will allow them to earn enough money to continue the new school year. Without an education, the brothers have no chance to escape their destiny in the silver mines.
Rating:
NR
Genre:
, , ,
Directed By:
Written By:
In Theaters:
On DVD:
Runtime:
Studio:
Critic Reviews for The Devil's Miner
Audience Reviews for The Devil's Miner
I'm not sure what to say about it. My sister didn't like it much so she fast forwarded through most of the second half. I don't know that I can call it a bad movie, it just didn't offer much more than: Poor 14 year old kid who has to work in a mine and underground worship the devil because it is his territory beneath the ground. Basically I felt guilty and somewhat bored. I don't think I gave the movie a good enough chance but I don't think it was great. I probably sound pretty heartless saying it was boring. Perhaps someday I will have to give it a proper chance. Honestly, it isn't that I don't feel horrible for children who have to work in a horrible and dangerous place, I just don't need 82 minutes of guilt and sympathy and admiration for poor kids to know that the world really sucks for a lot of people. But, like I said, I didn't really get to see it all so the ending might have had something great to it but I don't think I will ever actually go back and finish it and find out. Maybe I could sum it up by saying that there wasn't anything really great or unique about the documentary but the subject matter was kind of interesting and certainly the story of children laboring in dangerous mines is heartbreaking.
Okkay Warner
½
If you?re in the mood for an eye opening documentary? this will do the trick. I was captivated throughout the entire movie; following these children who must work in the mines of Bolivia is both heart wrenching and inspiring at the same time. Any parents out there who have children complaining about homework or school, should show their kids this film? seeing young Basilio work a 14-24 hour shift in the mines, then still have the energy to somehow go to school the next morning is an eye opener. The family that this film follows was so fascinating to me? the children at a young age are wise way beyond their years and show the kind of determination and commitment to family that is getting more and more rare here in America. Immersing yourself in this film will also help you to realize that even the poorest burger flipping minimum wage worker here in America lives like a pampered king; compared to these individuals. There is also the spiritual side of the film which I found fascinating. The miners are God fearing individuals when living outside the mine, but once they enter the mines they pray and worship the devil because they believe the devil is God in the mines. Wow. I?m giving this one my ?must see? stamp, and if you?re a documentary fan like I am, this is a no brainer.
Shawn Palmquist
This film truly hurt my heart, yet i fell deeply in love with this family. Such an eye opening film, very genuine.
Diandra H
Discussion Forum
Discuss The Devil's Miner on our Movie forum!
News & Features