The Dilemma
(2011)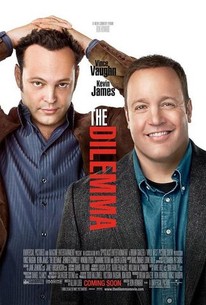 TOMATOMETER
AUDIENCE SCORE
Critic Consensus: It boasts a likable cast and an interesting premise, but The Dilemma can't decide what to do with them; the result is an uneven blend of cheesy slapstick and surprisingly dark comedy.
Movie Info
Vince Vaughn and Kevin James headline an all-star comedy from director Ron Howard and producer Brian Grazer about a man who finds out that what you don't say to a friend is just as important as what you do. Jennifer Connelly, Winona Ryder, Channing Tatum and Queen Latifah join them in The Dilemma, a story of how far you can bend a brotherly bond before it snaps. Since college, confirmed bachelor Ronny (Vaughn) and happily married Nick (James) have been through thick and thin. Now partners in an auto design firm, the two pals are vying to land a dream project that would launch their company. With Ronny's girlfriend, Beth (Connelly), and Nick's wife, Geneva (Ryder), by their sides, they're unbeatable. But Ronny's world is turned upside down when he inadvertently sees Geneva out with another man and makes it his mission to get answers. As the amateur investigation dissolves his world into comic mayhem, he learns that Nick has a few secrets of his own. Now, with the clock ticking and pressure mounting on the biggest presentation of their careers, Ronny must decide how and when he will reveal the truth to his best friend. -- (C) Universal
People Who Like this movie also like
News & Interviews for The Dilemma
Critic Reviews for The Dilemma
Audience Reviews for The Dilemma
½
Ron Howard's The Dilemma it's a surprising black comedy and presents a interesting cast to a humor picture. But it flaw, what could be a different comedy become just another funny drama, sometimes unfunny and a cliche ending. Rotten.
Lucas Martins
Super Reviewer
½
The Dilemma has some really funny moments, the two main characters worked well together and it's easy watching, it did however, have a weak plot and seemed not to reach it's potential.
Lady D'arbanville
Super Reviewer
Ronny Valentine: I just saw my best friend's wife with another man. I'll send you a check.  "The truth hurts." The Dilemma is a movie that relies on the audience liking the two leads, Vince Vaughn and Kevin James, and I do. In fact I like pretty much everybody involved here, especially Jennifer Connely. Sure the movie has its exceptions; Queen Latifa and Channing Tatum, but for the most part everybody is easy to like. The story isn't great, the movie isn't great, it isn't the funniest thing ever, but it isn't a completely worthless or horrible movie. In fact, I can go as far as to say I liked it. Two friends and business partners are close to making the deal of their lives and they are both stressing out about it. Nick is the brains of the operation and is married to Geneva(Winona Ryder). Ronny is the talker of the partnership and is thinking about marrying his girlfriend. When he goes to a botanical garden to scout out a place to propose, he sees his best friends wife with another guy. From there he must decide how to handle the situation. Should he just come out and tell his best friend his wife is cheating on him while they are on the verge of a massive deal? Should he wait? This movie isn't the greatest thing Ron Howard has ever done, but it isn't even close to the worst he has ever done either. The Da Vinci Code anyone? It isn't a landmark movie for anyone involved, but it is a fun little comedy. I think the film is a little over criticized. I know people have been disappointed with what Howard has been doing lately and I know there are a lot of people who don't like Kevin James movies. But come on, honestly this isn't horrible. This isn't even close to one of the worst movies of the year, which I had heard from some people. It's just a nice, pleasant way to kill a couple hours. That is, once again, if you like the leads. 
Melvin White
Super Reviewer
The Dilemma Quotes
| | |
| --- | --- |
| Ronny Valentine: | Let's face it. Electric cars are totally gay. I don't mean gay as in homosexual gay, I mean "My parents are chaperoning the dance" gay. |
| | |
| --- | --- |
| Ronny Valentine: | The conscience speaks, not in audible words, but through that small voice from within. |
| | |
| --- | --- |
| Ronny Valentine: | I'm a burn that face! Give me that stupid looking face! |
| | |
| --- | --- |
| Herbert Trimpy: | Those plants are poisonous! |