The Dinosaur Project
(2012)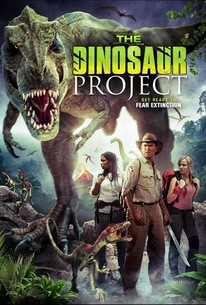 The Dinosaur Project Videos
The Dinosaur Project Photos
Movie Info
Dinosaur Project is a team of explorers searching for a mythical creature. When their helicopter is brought down by a flock of enormous birds they discover strange creatures which civilization has thought extinct for millions of years!
Critic Reviews for The Dinosaur Project
Audience Reviews for The Dinosaur Project
½
"The Dinosaur Project" is a strange blend of found footage and science fiction that takes Jules Verne into the realm of nightmare. It is a more intense film than I was expecting with an slight atmosphere of hopelessness polluting the air of adventure. The film is directed by Sid Bennett and follows a group of scientist on a quest to search for the mysterious prehistoric creatures said to be terrorizing the locals deep in the jungle of central Africa. It is a tragic story that plays out through video recordings of the journey that is orchestrated by the lead scientist's stowaway son who has his mind set to record the journey to discovery. This movie manages to be refreshing, dark and thrilling. It stars Natasha Loring, Richard Dillane, Matt Kane and Peter Brooke. The film keeps a constant feeling of watching tragedy unfold scene by scene as camera roulettes between camcorder and digital clips thanks to the various small wireless camera's the young boy brings with him. This film doesn't give you a moment to be bored with the usual camera tricks that are common with found footage film due to the intense action and total fatality of the characters story lines. The movie feels like a complete misadventure that is believable. I almost forgot the this was a fictional account due to the back and forth between choppy footage and hand held camcorder style the movie uses. The dinosaurs in this film are vicious, unnatural predators that bring the nightmare home and yet there are small moments when the story shows a playful excitement of new discovery of a species thought to be extinct for millions of years. This isn't a fun carefree film like Jurassic Park but it isn't suppose to be that kind of film. "The Dinosaur Project" is a pleasant surprise as far as being intense and chilling. This movie was an intense little story that was entertaining and pretty dark. A very cool dinosaur picture.
rick russ
½
B- A lot better than many have made it out to be. The film has gorgeous sets and the had found footage is also very nice. The acting from about 97% of the cast is great. Now the film does lack in the scares/gore department but you still get to see dinosaurs(which look very cool and real too) attack/kill people. Overall it's a lot better than critics say it is. Think Jurassic Park meets The Blair Witch Project but on a smaller scale.
Justin Johnson
What an absolute let down. The makers of this film should seriously feel ashamed of themselves. They fail to create an interesting narrative or make a believable found footage film. The Dinosaur Project follows a group of documentary filmmakers and explorers as they travel into deep dark Africa to investigate a reported dinosaur sighting. They soon find a whole society of dinosaurs roaming free. The film fails because it seems as though it wanted to have a conventional narrative, but chose the found footage genre to save some money. This leads to painful dialogue and the most obvious characters you could think of. They even try shoehorning in a typical villain, which makes no sense given the danger everybody is in. The film doesn't seem to care too much about sticking to its premise, as camera shots appear from anywhere and all the action is captured perfectly. We'll see somebody with a camera being filmed, and when it cuts to their perspective the person filming them has vanished. Is the main cameraman a Predator with a cloaking device, because I swear you manage to see him once. We also have magical sound, where even when characters are standing far away from the camera we can pick up what they are saying perfectly. This is very much a kids film, in that we have a 'cool' young protagonist who is an exceptionally useful tech whiz. He can even afford and operate devices the professional TV crew haven't even heard of. The film tries to be too good, when poor sound, lazy framing, and inconsistent lighting would have been a huge benefit. The dinosaurs do look fantastic though and all credit should be given to those behind these creatures. It's such a shame that the film surrounding the effects had to be so poor.
Luke Baldock
Super Reviewer
The Dinosaur Project Quotes
There are no approved quotes yet for this movie.
Discussion Forum
Discuss The Dinosaur Project on our Movie forum!