The Distinguished Gentleman
(1992)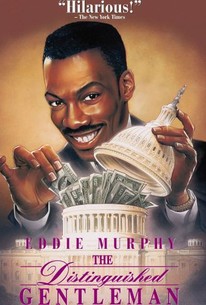 The Distinguished Gentleman Photos
Movie Info
A smooth-talking confidence trickster makes his way into congress (where the cynical would suggest he'd have plenty of company) in this comedy. Thomas Jefferson Johnson (Eddie Murphy) is a con man from Florida who gets the bright idea that a scam artist could make a tidy sum if he was able to get inside the political arena. When a Florida congressman named Jeff Johnson dies and a special election is held to replace him, Thomas puts his name on the ballot as "Jeff Johnson," and enough confused voters check the ballot for him that he wins the race and is on his way to Washington D.C. Johnson soon finds a mentor in Dick Dodge (Lane Smith), chairman of the Power and Industry Committee, who shows Johnson the ropes on raking in PAC money while the late Mr. Johnson's aide, Reinhardt (Grant Shaud), gives him the inside scoop on how things work in Washington. Johnson's plans are going just as he hoped until he meets Celia Kirby (Victoria Rowell), a volunteer lobbyist and political activist whose uncle is a noted religious leader, The Rev. Elijah Hawkins (Charles S. Dutton). Johnson quickly becomes smitten with Celia, but it's obvious that she's not buying his act, and if he wants to win her heart, he'll have to stop fooling people into thinking he's honest and actually be honest. Joe Don Baker and Sheryl Lee Ralph also co-star.
Critic Reviews for The Distinguished Gentleman
All Critics (16) | Top Critics (3) | Fresh (2) | Rotten (14)
This lightweight political sitcom takes awkward narrative jumps and sags in the middle...despite some taut byplay between Lane Smith and Joe Don Baker, the outcome is too obvious to be gratifying.
An OK Murphy vehicle, but still the same old hip black guy smarter than the white men routine.
October 23, 2002 | Rating: 2/5
Tepid Eddie Murphy political farce.
July 25, 2002 | Rating: 2/5
Audience Reviews for The Distinguished Gentleman
Eddie Murphy plays Thomas Jefferson Johnson, a hustler and con artist, who finds out that running for Congress will earn him more money than he does now. He uses this post to hopefully earn a decent living and sham his way to more. Instead, he discovers that some government officials are even more corrupt than he is and he must use his "power" to make things right for the little people.Good natured fun from the early 90's
½
Not bad. A lot funnier than I was expecting. It reminds you just how funny Eddie Murphy can be and how far he's fallen.
Jonny Crumley
Super Reviewer
The Distinguished Gentleman Quotes
There are no approved quotes yet for this movie.