The Doctor and the Devils
(2003)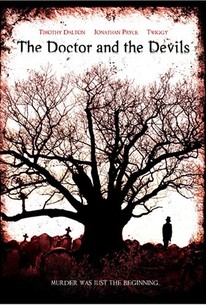 The Doctor and the Devils Videos
The Doctor and the Devils Photos
Movie Info
A movie version of the stage play The Doctor and the Devils, written in the 1950s by Welsh poet/playwright Dylan Thomas, had been planned and shelved by several filmmakers before producer Mel Brooks and director Freddie Francis finally brought the project to fruition in 1985. Essentially, the story is the old one about grave robbers Burke and Hare and Scottish surgeon Dr. Robert Knox (which also yielded the 1945 Val Lewton classic The Body Snatcher). Timothy Dalton plays 18th century doctor Thomas Rock, who must rely upon the disreputable Robert Fallon (Jonathan Pryce) and Timothy Broom (Stephen Rea) to provide fresh cadavers for Dr. Rock's teaching hospital. When they can't dig up corpses fast enough to suit Dr. Rock, Fallon and Broom decide to streamline their methods via murder. ~ Hal Erickson, Rovi
Critic Reviews for The Doctor and the Devils
All Critics (5) | Top Critics (1) | Fresh (0) | Rotten (5) | DVD (3)



Audience Reviews for The Doctor and the Devils
For all intents and purposes, "The Doctor and the Devils" is a Hammer horror film. It might be produced by comedian Mel Brooks and his Brooksfilms imprint, but all signs point to this being made by the British house of terror had it been conceived during the 1960s or 1970s. A strong English cast directed by Freddie Francis while surrounded by a period piece atmosphere completes the successful formula for such a film. Thomas Rock (Timothy Dalton) is a young anatomy professor who feels his hands are tied to make new discoveries for the advancement of science. Rigid moral laws of the day limit him to the amount of cadavers he can research on. He receives the rotting bodies of a few hanged criminals every year to work with. Rock needs fresher specimens to work with, and two grave robbers (Jonathan Pryce and Stephen Rea) will do what it takes to provide fresher corpses for the professor - at a hefty cost. "The Doctor and the Devils" is rated R for sex and nudity, violence and gore, profanity, alcohol and smoking, and frightening and intense scenes. The sex scenes take place in a brothel where the prostitutes work. There's brief upper nudity in one part that takes place in the house of ill repute. The blood and guts are about the same amount you would expect from a Hammer horror film of the 1970s. Director Freddie Francis is no stranger to English horror films set in 1800's England. He helmed many a Hammer movie and uses the same ingredients to put together "The Doctor and the Devils." Screenwriters Dylan Thomas and Ronald Harwood takes the Burke and Hare tale and puts his own spin on it. www.ersink.com
Eric Shirey
Okay, yeah, there's a good cast, and moments of entertainment here... but this is an old story that has been told in too many films already. I was just bored, it brought nothing new to the old tale.
The highlight of this film is the tremendous acting, with the rare quality of its entire cast being uniformly good (there isn't a weak one in the bunch). Jonathan Pryce is the stand-out as he gives an emotionally-riveting performance as the murderous Fallon, though Stephen Rea is quite effective as well as his accomplice Bloom. Add in a rich atmosphere and a haunting musical score and you have a rather captivating film. Admittedly, it's substance is rather shallow as the screenplay doesn't fully explore its characters enough, and the direction by Freddie Francis is rather flat despite good production design, but this is one case when the acting elevates the film above its muddled material. Recommended to fans of period dramas, gothic atmosphere, or good old fashion horror tales.
David Schwenker
The Doctor and the Devils Quotes
There are no approved quotes yet for this movie.
Discussion Forum
Discuss The Doctor and the Devils on our Movie forum!