The Dolphin
(2010)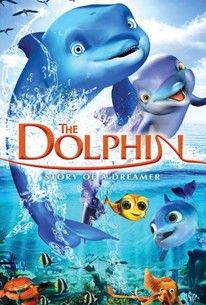 AUDIENCE SCORE
Critic Consensus: No consensus yet.
Movie Info
This animated release for kids follows the story of Daniel Alexander, a dolphin whose dreams and aspirations go far beyond the aquatic world he lives in. Courageous and brave, Daniel leaves the confines of his pod and embarks on a fun adventure with his friends, learning important lessons about happiness and self-confidence along the way. ~ Cammila Albertson, Rovi
Audience Reviews for The Dolphin
It's not really that I didn't like it, it was just kind of "blah". It kept my son entertained, though, so I suppose it gets points for that.
Natalie Kulkarni
This little South American gem was a wonderful surprise. The animation was crisp and vibrant and shiny and pretty and neato and even swell! The story itself and the message within were a bit goofy, but with terrific characters, funny dialog and cuteness galore, I really didn't care. If you like movies where a baby dolphin farts and then uses the bubble to breathe, you'll love this one! Amazingly, it's rated PG for no reason because Americans are afraid of their own shadows.
Gaspar Oot
I was intrigued to see this movie after seeing it on DVD at Walmart. Not only because a dolphin is the main character in the film, but because it also talked about following your dreams. At first, I was kind of confused by the characters that popped up everywhere, the weird sequences, the random musical number, and other things that the movie simply didn't explain. But finally toward the end, when Daniel Alexander Dolphin finally makes his dream happen, I put it all together: in order to have a dream happen, you have to have faith not only in yourself, but maybe in 'a voice' (like God, perhaps), along with friends/family (Carl, Lina, the manta, the whale, the shark, etc.). You may face some challenges along the way, including those who want to completely kill your dream off or don't believe in it (Daniel's pod, or even the Dream-Eater, who was once a dreamer himself and failed to have the confidence so he just started stealing dreams of others; or even that Master Octopus that tried to do the same thing because he never went after his). In the end, I could connect everything in the story to some aspect of real life, and I think THAT was what the movie was trying to grab. The plot is a little hard to follow with all the character interactions and some crazy action scenes, and the characters aren't exactly memorable except for Daniel, but this movie isn't trying to win audiences over with the plot or the characters, but with the STORY and the MESSAGE - that if you follow your dreams and your heart, there's nothing you can't do in life. And THAT, in the end, is why I enjoyed this movie. The film has a PG rating for the action scenes where Daniel has to avoid characters trying to eat him at every turn and some mild humor, but if you enjoy an uplifting story, you'll "surf the perfect wave" and jump high for this movie!
Chris Pherson
The Dolphin Quotes
There are no approved quotes yet for this movie.
Discussion Forum
Discuss The Dolphin on our Movie forum!