The Dorm That Dripped Blood
(1982)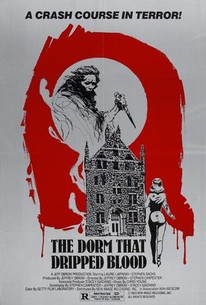 The Dorm That Dripped Blood Photos
Movie Info
When a group of college students volunteer to stay in their dorm over break to help out with some work, they soon discover that they are being stalked by a gruesome and innovative killer.
Critic Reviews for The Dorm That Dripped Blood
All Critics (5) | Fresh (0) | Rotten (5) | DVD (2)
Intensely, aggressively, crudely, claustrophobically typical.
I saw this at a drive-in when I was about 10 years old. It didn't even scare me then.
February 23, 2003 | Rating: 1/5
Standard slasher with a stolen (goofy) title.
July 27, 2002 | Rating: 1.5/5
Audience Reviews for The Dorm That Dripped Blood
In the 1980's there have been so many Slasher films that have made their mark in the genre. However, a lot of them went into obscurity and never really got the attention that they deserved. The Dorm that Dripped Blood is a perfect example of a film that got lost in the plateau of countless Friday the 13th and Halloween rip-offs of the early 1980's. This is a fine little low-budget B movie shocker that is sure to please fans of the Slasher genre. The film is nothing new, but compensates with a high gory body count. Acting wise, the film has some decent performances, but is never anything good considering that this is a Slasher flick, and the film has the standard acting that is expect from the genre. This movie will surely appeal to genre fans and has everything you'd expect from an effective Slasher. What I enjoyed the most about the film was the effective kill scenes and chilling score by composer Christopher Young who would later write the score for Clive Barker's Hellraiser. The story is nothing new or refreshing, nonetheless it's a fun and entertaining forgotten gem that is a must see for fans. The kills are great and are the standout aspect of the film. Despite the film's strong points, there were plenty of flaws as well. Such as a so-so plotline that we've seen many times before and questionable acting and somewhat of a predictable ending. If you can get past these low points, and it's fairly easy to, you're sure to be entertained by this movie. To compensate for the film's imperfections, directors Stephen Carpenter and Jeffrey Obrow keep the tension coming with a dark, tense atmosphere that leaves you on the edge of your seat. This is one of those cheesy Slashers that is underrated and obscured by so many other titles. The Dorm that Dripped Blood is one of those films that isn't perfect by any means , but is a fun and entertaining hour and a half of gory killing that will surely satisfy horror fans. With a decent story and memorable kill sequences, The Dorm that Dripped Blood is an obscured classic that fans should definitely check out.
½
Ugly, dreary, poorly-acted, and the kind of predictable that makes you think there's going to be another twist, because SERIOUSLY? The one thing that gives The Dorm that Dripped Blood some sort of value, besides its awesome title, is that the kills actually look sort of gruesome for a movie that probably cost fifty thousand dollars to make. Also, one of the actresses has a strange voice and my friends and I arbitrarily decided she was deaf, so that added a tinge of much-needed bizareness to an otherwise rote dormitory slasher. Too amateurish and starry-eyed to hate, but not worth watching in any regard.
Drew Smith
Super Reviewer
½
average run-of-the-mill slasher. Despite the nice little twist towards the end it's all routine stuff, but the kills lack any graphic detail and it's all a bit dull overall.
The Dorm That Dripped Blood Quotes
There are no approved quotes yet for this movie.