The Driver's Seat
(1975)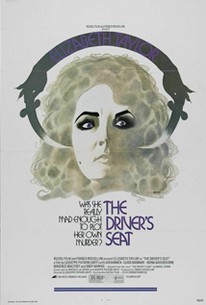 AUDIENCE SCORE
Critic Consensus: No consensus yet.
Movie Info
In this bizarre Italian drama, Elizabeth Taylor stars as a psychotic woman who heads for Rome to search for her lover in the hopes that he will kill her. This is generally considered to be Taylor's very worst film. The story is based on a novel by Muriel Spark and on video is titled Psychotic.
Critic Reviews for The Driver's Seat
All Critics (3) | Fresh (1) | Rotten (2)
Fans of Taylor may like this, but they would have to be a group with amazingly low standards.

Ozus' World Movie Reviews
Hilariously ghastly camp that rivals the likes of Valley of the Dolls or Mommie Dearest with its wild, no-holds-barred over-the-top lunacy.

Audience Reviews for The Driver's Seat
Elizabeth Taylor made some real clinkers during the latter part of her film career but this nonsensical mess is by far the worse. It's such a piece of trash you have to wonder how she ever became involved with it in the first place. Not only is the film completely diffuse but both Liz's hair and outfits are a horror show all their own. Skip it.
Intriguing Italian made film. Great title too. Suggest you watch it with a bottle of fine Italian wine. Elizabeth Taylor either sought, was attracted to or succumbed to avant guard films such as this one. Intriguing as it begins that anyone could experience her fate at an airport. Not your usual Hollywood, glitter product. [img]http://t3.gstatic.com/images?q=tbn:ANd9GcRyU_o7owrV_R0cJ8pzmDZqokIn2LNXX_J06l-GCoyEVEGRt9pX[/img] Taylor strips to her breasts, sort of Identikit (also known as The Driver's Seat) is a 1974 film directed by Giuseppe Patroni Griffi. Based on the novella The Driver's Seat by Muriel Spark, it is a psychological drama starring Elizabeth Taylor, Ian Bannen and featuring Andy Warhol. [img]http://t3.gstatic.com/images?q=tbn:ANd9GcRtCjp78hfz8F9t-IFZVv8fh_2D1bwbr2gyO9iFn-DB_BiaHnPR[/img] Taylor acting.... REVIEWS: 70% Hilariously bad! Liz's worst movie ever - and that's saying quite a lot. 60% This obscure movie, which has been so unfairly panned by the critics of its time, actually manages to deliver what I believe was the intention, a disintegrating world of a psychotic woman. 80% If you like offbeat dramas from this time period that require a little brainwork then you may dig it. If you like having everything spelled out for you then you may find it "bad". I dug it! 100% I have been watching and enjoying Elizabeth Taylor films all my life and this is one of her best. I think this film is one of the most underrated films of all time. Cast Elizabeth Taylor as Lise Ian Bannen as Bill Guido Mannari as Carlo Mona Washbourne as Mrs. Helen Fiedke Luigi Squarzina as Lead Detective Maxence Mailfort as Pierre Andy Warhol as English Lord Anita Bartolucci as Saleswoman Gino Giuseppe as Police Commissioner [img]http://t0.gstatic.com/images?q=tbn:ANd9GcRB9KzPGJYeUr__mOKlX_WQ11Z08lHauY2293vQX5vmVct1UU2X6Q[/img] The queen, Cleopatra, as she was in Drivers Seat A bizarre clip from the film: www.youtube.com/watch?v=HKMd_Te3nj8 SEE it here , all of it: http://www.youtube.com/watch?v=GJrM5uNZCEw [img]http://t3.gstatic.com/images?q=tbn:ANd9GcTgzB8CZG1iMUUGd2yvs9Om6N0jdUPbQYsjyqITSTnHeH3LDEopDw[/img] Directed by Giuseppe Patroni Griffi Produced by Nello Meniconi Franco Rossellini Written by Muriel Spark (novel) Raffaele La Capria Giuseppe Patroni Griffi Cinematography Vittorio Storaro Editing by Franco Arcalli Distributed by AVCO Embassy Pictures Release date(s) 20 May 1974 Running time 105 mins Country Italy [img]http://upload.wikimedia.org/wikipedia/en/thumb/f/f8/Identikit_VideoCover.jpeg/220px-Identikit_VideoCover.jpeg[/img]
monsieur rick
½
"It takes one day to dye, another to be born..." Elizabeth Taylor reportedly said those words to her director Griffi when she came on the set the day after she left Burton for their first divorce. So with that mindset she went to work on one of her most unusual, daring and controversial films. From the moment "The Diver's Seat" begins you know you are in a strange place. In Europe the movie was called "Idendikit" so, with two names tagged to it thus making it schizophrenic from the first it easily falls into the realm of the ambiguous art film genre of the late 60's and early 70's. It's star, Elizabeth Taylor, appears here in one of her most remote and dangerous roles. She plays Lise a woman who is consumed by insanity and the desire to find the ultimate lover, the be all and end all of boyfriends you might say. As the film opens you are presented with a shattered view of a woman on the edge of something terrible. The camera moves past bald mannequins in a disjointed way. Is this Lise's view of others or is it a reflection of her ultimate fate? Upon being told to take a holiday from work after causing a scene in the office the film opens with her preparations to take flight to Rome. The film jump cuts from past to present as the police in Rome try to reconstruct her final fatal holiday in terrorist gripped Rome. Even Rome comes off as off kilter. This is not the Rome of Audrey Hepburn or Marcello Mastroianni but a city one hardly recognizes from the lack of typical filming locations one associates with "Made In Rome!" movies. Director Giuseppe Patroni Griffi succeeds in presenting a uniquely Italian cinema verite film of the Muriel Spark novel. This is a unique film and very much of it's day. Its non-linear, experimental, almost documentary style will be hard to get into for any one not used to movies of this sort. But it is well worth the effort. So strange and challenging a film it is that it left the opening night audience at the 1974 Cannes Film Festival in stunned silence. The cast is well chosen and gives some oddly memorable performances. Ian Bannan as the macrobiotic sex-nut who tires to pick up Lise on the plane to Rome seems almost as mad as she is. It is a wickedly off kilter wild-eyed performance. The charming and always wonderful Mona Washbourne is sweetly touching as the woman who befriends the mad Lise and in doing so leads her to meet the man of her dreams. But the glue that holds it all together is provided by Miss Taylor who tops off her short list of insane characters from Susanna Drake to Catherine Holly with this daring and shocking portrait of Lise. She opens up as an actress that at the time would have been unthinkable to most of her contemporaries from the old M.G.M. days. That's one of the wonderful things about her film career. She came from an era in old Hollywood where she was trained and groomed to be glossy and perfect. But as times changed so did she and in doing so became much more than an MGM glamour girl, she became an actress with guts. In "The Driver's Seat" she shows her chops as an actress and her willingness to accept challenges in her roles and in Lise she found a great one. One stunning image of her is when in her loud madwoman dress and raccoon painted eyes she challenges the airport security to frisk her. In that scene she seems totally there, totally gone, and totally in control as an actress.
Michael Smith
The Driver's Seat Quotes
There are no approved quotes yet for this movie.
Discussion Forum
Discuss The Driver's Seat on our Movie forum!