The Elementary Particles
(2006)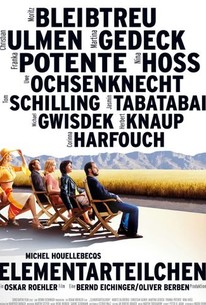 The Elementary Particles Photos
Movie Info
With his bittersweet, German-language tragicomedy The Elementary Particles, writer-director Oskar Roehler brings to the screen Michel Houellebecq's popular seriocomic novel of two ill-adjusted siblings. Christian Ullmen and Moritz Bleibtreu portray, respectively, Michael and Bruno, half brothers who have each adjusted poorly to adult life, thanks in no small part to a cracked upbringing by their eccentric, social dropout mother. As the story opens, each brother experiences a personal crisis. Geneticist Michael returns to his work in cloning after an extended period away from his Irish laboratory, but suffers in quiet desperation from his intense inner loneliness; he must soon leave the lab once again and head back to his hometown, where his grandmother's corpse is being disinterred from a cemetery. Upon arrival, he reencounters Annabelle (Franka Potente of Run Lola Run), an adolescent crush to whom he was never before able to express his romantic yearnings; they consummate an intense erotic affair, and remain together, but a troubled pregnancy renders her infertile and makes family conception an utter impossibility. Meanwhile, high school teacher Bruno (a married husband and father) is driven completely around the bend by sexual yearnings for his female students, and consequently suffers from a nervous breakdown; he checks himself into a sanitarium, then heads off on a bender at a swingers' retreat with a new lover, Christiane (Martina Gedeck) - but their pleasure is all too short-lived. Nina Hoss and Uwe Ochsenknecht co-star.
Critic Reviews for The Elementary Particles
Audience Reviews for The Elementary Particles
For some odd reason I am just hugely drawn to movies of this calibre. They intrigue me to no end, even though I may only know one actress who...is from one of my favourite philosophical movies. Of course, I'm talking about Franka Potente...aka the Lola in Run Lola Run....which is a blatant ploy to make you lot check that movie out as well! Regardless, as I watched this film it started out to be something I just wouldn't have expected it to be and I love the fact that it was in its original language with subtitles. I'd rather read than want to listen to some poorly dubbed version [ though most of the time one might want to question the translations ]. Back to the movie; it's a story about two half-brothers Michael and Bruno. When they were younger, their mother completely ignored them and didn't even let them find out about each other until well they were in early highschool at the latest. Both were left in care of their grandparents while she was into that 'hippy schieze' Bruno always complains about. Bruno seems to be an english teacher in highschool who has fallen out of love with his wife and fails time and time again to find someone else to fill that void. Although, after much searching she basically falls into his lap and then the real interesting stuff starts to happen. His returning to 'the clinic' is not uncommon and he is always invited back there with all the lithium he wants with basically open arms from the nurses and Dr Schafer. Michael is one of those really silent and extremely brilliant people who grows up to become molecular biologist who is still socially awkward after all those years. One day he leaves his work in Germany for a tenure and wants to return back to Ireland where he almost finished his other work. During this time he receives notice of his grandmother's grave having to be moved and coincidentally runs into his childhood sweetheart whose letters he had just read earlier. It's interesting how something so sad can become endearing and even funny at some parts. All the actors do a wonderful job fulfulling the roles of these characters that become so believable that we can't help but want to help them out in some way.
Bannan instant enigma- just add water
Super Reviewer
The Elementary Particles Quotes
There are no approved quotes yet for this movie.