The Emperor's Shadow (Qin song)
(1997)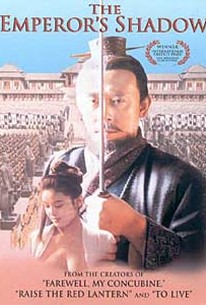 Movie Info
The most expensive film ever made in China up to the time of its release, Qin Song (1996) is an historical epic of that country's first emperor. Jiang Wen stars as Ying Zheng, king of China's Qin province in the third century B.C. Determined to unite the land's six disparate kingdoms under his control, Qin has embarked on a campaign of conquest and unification. In the kingdom of Yan, however, Qin orders his men to spare the life of Gao Jianli (Ge You), a childhood companion whose mother cared for and even nursed both boys. Jianli is now a musician, and Zheng has plans for his old friend. Desiring a national anthem, Zheng commissions Jianli to compose such a tune, but the crafty and righteous Jianli has other plans, wooing Zheng's paralyzed daughter, Princess Yueyang (Xu Qing), who is promised to a high-ranking general. ~ Karl Williams, Rovi
Rating:
NR
Genre:
, ,
Directed By:
In Theaters:
On DVD:
Runtime:
Critic Reviews for The Emperor's Shadow (Qin song)
Audience Reviews for The Emperor's Shadow (Qin song)
(** 1/2): [img]http://images.rottentomatoes.com/images/user/icons/icon13.gif[/img] A bloated epic. I liked the story from the beginning and was intrigued but the film became overlong and it seemed like the focus of the film drifted toward emphasizing the killing of thousands of people (mostly the empire's slaves) instead of the story of the emperor, his "brother" and the creation of a national song.
TTT C
An overlooked Chinese spectacular about personal relationship between the first emperor of China and his childhood friend which is a genius composer. Directed by one of the Chinese 5th Generation directors, Xiaowen Zhou. Unlike other big-scale Chinese film setting in ancient kingdoms, it does not have a single scene of martial arts or sword fighting, but it is still a first-class entertainment. What makes this film great is definitely performances by the two best actors of China today, Wen Jiang and You Ge - It is like DiCaplio and Pitt are in the same film. Especially You Ge plays the difficult role so professionally. Besides it is a good political suspense, it is also a great love story between the heroin who's the daughter of the emperor and You Ge's character, and the beauty of Qing Xu, who plays the heroin, is outstanding. Putting aside the question whether this story is really based on the real history, it has great performances and some unforgettable scenes which inspires me a lot.
Naoya Kugimiya
A very interesting take on the story of the First Emperor of China, Emperor Qin. More from the point of view of his family members and his childhood friend, the musician Gao Jianli.
Nicholas Stanosheck
The Emperor's Shadow (Qin song) Quotes
There are no approved quotes yet for this movie.