The Eyes of the Mummy
(1922)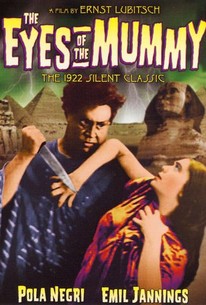 AUDIENCE SCORE
Critic Consensus: No consensus yet.
Movie Info
Considering the poor quality of this UFA-produced melodrama starring Pola Negri and Emil Jannings, it's quite likely the two actors played in it before doing Passion and One Arabian Night (known in Germany as Madame DuBarry and Sumurun respectively). Negri plays Marah, the high priestess of Ug-Balak, a mysterious Egyptian shrine. Albert Vernon (Henri Liedke), an English engineer visiting Egypt, becomes intrigued when he runs into a man who has visited this shrine. Even though the visit has clearly brought the fellow to the brink of a physical breakdown, Vernon decides he has to go to see Ug-Balak for himself. There he meets Radu (Jannings), the shrine's keeper. He also finds a mummy and a door, behind which is Marah. She tells Vernon that Radu kidnapped her and forced her to be the mummy's "eyes." Vernon takes the girl and they escape to England. Eventually Radu tracks them down and after terrorizing Marah for a while, he inexplicably decides to kill himself in lieu of taking her back to Egypt (obviously something was left on the cutting room floor between Germany and the United States). This picture has almost nothing to recommend it except for a brief scene in which Negri gets to dance, prompting Variety to note that she "discloses unsuspected skill." Perhaps that's because the critic didn't know that she started off her performing career by training as a ballet dancer.
Rating:
NR
Genre:
, , ,
Directed By:
Written By:
In Theaters:
On DVD:
Runtime:
Studio:
Projektions- AG Union (PAGU)
Critic Reviews for The Eyes of the Mummy
All Critics (1) | Fresh (1) | Rotten (0)

Ozus' World Movie Reviews
Audience Reviews for The Eyes of the Mummy
½
Albert Wendland (Leidtke) rescues Ma (Negri) from Radu (Jannings), a maniac who kidnapped her and who has been passing her off as a living mummy in an Egyptian tomb. The girl finds fame and fortune as the artist's model and a cabaret dancer in a major European city. However, Radu pursues them, intent on claiming what is his through any means necessary. [center][img]http://www.geocities.com/nuelow/movmummyeyes.jpg[/img] [i]The evil Radu (Emil Jannings) catches up with the innocent Ma (Pola Negri) during the climax of the 1922 silent film "The Eyes of the Mummy"[/i] [/center] "The Eyes of the Mummy" has been touted by some as the first mummy movie. I can't help but wonder if those commentators actually bothered watching it, because there is even less mummy action here than there is in Universal's 1932 "The Mummy" and no supernatural element at all. Or is there? There are hints in the film that Radu is more than just a scammer, kidnapper and rapist. In one scene, he seems to appear in spirit-form in Ma's bedroom, and he later commands her through nothing more than the power of his mind. What might these scenes mean? A generous and imaginative viewer could take these elements and combine them with the story Ma tells for having been dragged from the riverbank by Radu and waking up in the tomb as proof that the spirit of an ancient Egyptian queen dwells within the girl, brought back to life by Radu through magic--her being dragged away from the river was her being brought back from the spirit world to this one. A less-generous viewer might say that the movie is the cinematic equvilent of an inkblot and little more than a poorly defined melodrama that features a loosely stitched-together selection of gothic fiction elements tossed in with no more thought beyond "well, this'll creep 'em out!" Whatever the case, "The Eyes of the Mummy" is an unevenly paced movie that never quite manages to invoke enough horror or suspense to make it truly entertaining; some scenes become better when you run the DVD at 2x speed, a hidden advantage to silent movies. The acting is decent (even if you're one of the people who can't stand the acting styles of early cinema) and stars Emil Jannings and Pola Negri are especially fun to watch. Negri's exotic dances are more snicker-inducing to modern viewers than they are sexy, but she shows herself to be both a good actress, dancer and stunt woman--watch for that fall down the stairs near the end of the movie! The Eyes of the Mummy (aka "Eyes of the Mummy Ma") Starring: Pola Negri, Harry Leidtke, Emil Jannings and Max Laurence Director: Ernst Lubitsch
Steve Miller
Discussion Forum
Discuss The Eyes of the Mummy on our Movie forum!
News & Features