The Favor
(2008)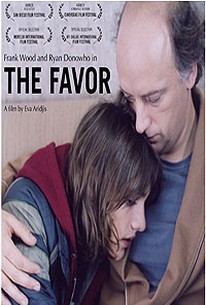 Movie Info
Following up the acclaimed documentary Children of the Street, filmmaker Eva Aridjis made her narrative-feature debut with this bittersweet drama starring Frank Wood and Ryan Donowho. Wood plays Lawrence, a man who decides to take in Johnny (Donowho), the troubled teenaged son of his recently deceased high-school sweetheart. Twenty-five years ago, Caroline (Paige Turco) broke Lawrence's heart. These days, Lawrence is a single, middle-aged photographer leading a quiet life with his loyal canine companion in Bayonne, NJ. When Lawrence receives a surprise phone call from a recently divorced Caroline, romantic feelings are rekindled and his life suddenly takes on new meaning. Unfortunately, a life with Caroline wasn't in the cards for Lawrence, because shortly after the high-school sweethearts reconnect, Caroline dies in a sudden and tragic accident. Now, in order to prevent Carlone's troubled 16-year-old son, Johnny (Donowho), from being placed in foster care, Lawrence adopts the boy and tries his hardest to be a caring father. But Johnny wants nothing to do with Lawrence, instead choosing to follow in his biological father's footsteps by becoming a petty criminal and constructing an impenetrable wall of anger and silence. It seems that the only person capable of breaking through to Johnny is Mariana (Isidra Vega), a pretty neighborhood girl with whom the boy forms a warm bond. In time, Johnny begins to realize that Lawrence is a respectable role model and caring father figure who is willing to make the sacrifices needed for him to have a brighter future.
Critic Reviews for The Favor
Audience Reviews for The Favor
½
[i]The Favor [/i]dir. Eva S. Aridjis [i]The Favor [/i]is a rich, mature film with a strong emotional center that deals with the necessary trials of finding a life of substance and meaning. It features superlative acting and an achingly lovely narrative that is never cloying or sentimental. It is a film populated with believable characters who stumble toward a type of understanding that is hard fought and won. The story involves the lives of two key individuals that a catastrophic event bring together. Lawrence (Frank Wood) is an animal photographer who also takes mug shot photos among other tasks for the local police precinct. He's a quiet man who has established a simple life for himself. When he gets a call from Caroline (Paige Turco) after not seeing her for twenty-five years, he's understandably startled. They meet up again and have dinner where Lawrence brings up the fact that Caroline essentially broke his heart when she dumped him just after high school. They part and agree to meet up again soon. Caroline's son, Johnny (Ryan Donowho) is playing his bass and walks from his bedroom to the bathroom with the bass still plugged into the amp. Caroline trips over the cord and falls down the stairs breaking her neck. She is killed instantly. To avoid having Johnny sent to a foster home, Lawrence agrees to take him in and act as his legal guardian. The film explores the myriad difficulties between Lawrence and Johnny as they attempt to find a way to live together peacefully. Ryan Donowho completely captures the soul of Johnny. Johnny is in many ways typical of the kind of kid who doesn't exactly fit into any moulds that society wants to put him in. He's rebellious but not in a conscious way. Indeed, he seems incapable of or unwilling to make any decisions for himself. He's a talented musician but when he moves into Lawrence's house he stops playing his bass. He ditches school because it just doesn't do anything to stimulate him. Naturally, he smokes pot and steals his grandfather's anti-anxiety pills. After downing several pills before the funeral he collapses and has a grand mal seizure due to an allergic reaction to the medication. Donowho gives Johnny a disaffected energy that is made manifest primarily in his posture. Johnny is always slumped over; he's a shadow figure whose intentions are pure but whose actions do not reflect this. He meets a girl named Mariana (Isidra Vega) and becomes instantly taken with her. When he sees her conversing with another boy he snaps and assaults him. He also steals Lawrence's camera to pay for the drugs he lost when he was busted by the cops. The acting in this film is genuine and allows each character to be fleshed out. Frank Wood gives Lawrence an ease that is born out in his altruistic gesture toward Johnny, which is actually made toward Caroline. Clearly, Johnny could be Lawrence's biological son and in his mind by all rights should be. Johnny reminds Lawrence of the loss of Caroline so many years ago when she ran away with Johnny's father who subsequently abandoned both Caroline and Johnny. Caroline's death instills in Lawrence the basic belief that it's his duty to raise Johnny because it is what Caroline would have wanted. As Caroline, Paige Turco) is warm and sweet; in her character's limited screen time Turco establishes Caroline as a woman possessed of a quiet dignity. As Mariana, Isidra Vega, is both vulnerable and self aware. She is the one character who seems to have at least a semblance of a grasp on what she wants. The one failing this film has, and it isn't a major one, comes in the form of some of the secondary actors. They are wooden and not at all convincing in their attempts to convey the reality their characters would inhabit. The principle actors are so effective though that it doesn't damage the film's impact. Overall this is an impressive feature that is emotionally honest throughout. It is a character driven film and each actor brings a viable sense of what their character's need throughout the film. The music adds an authenticity to the film. There is one scene in particular where Johnny, who has just dropped acid for the first time, goes with Mariana into her bedroom. She has a wall filled with postures of the Cure. Johnny notices that Mariana has a turntable and asks her to put on her favorite song. She chooses the Cure's "Your House" and the pair proceed to make out to the song before Johnny starts tripping to hard and escapes. Johnny goes home and puts on The Stone Roses' "I wanna be adored" and pogos about his room to the song. These are not merely two songs haphazardly interjected into the narrative. They reflect a deep yearning that firmly exists within Johnny and all kids who find themselves utterly without anchor. Home and the possibility of being absolutely cherished by one other person are two necessary conditions of being fully human. This is what Johnny craves, however unwilling he might be to articulate it. With Lawrence he has found a person who cares deeply what happens to him and he has also found a safety net where he can escape. Lawrence has taken upon himself a difficult, surly teenager without a male role model who hasn't ever been instructed regarding the various codes that men live their lives by. He has basically been able to run about as he pleases without ever considering the consequences of his deeds. Lawrence is perhaps the first man who has ever attempted to guide Johnny and the growing pains of such a novel arrangement are severe and taxing. Johnny is not remotely troubled; circumstances have merely stacked up against him and he feels helpless to do much of anything to change his situation. He's not lost. He knows what brings him solace and it's music. There is another terrific scene that takes place in an empty swimming pool. Johnny is kicking a ball about and while exiting he walks past a piano. At first he's just going to run his fingers across the keys but he stops and plays a haunting, exquisite piece of music that essentially sums the character up quite convincingly. At the center of Johnny is a delicate, sensitive child capable of great and lasting tenderness. This is so often the case with other kids who simply cannot fall in line with the established way of doing things.
Everett Jensen
The Favor Quotes
There are no approved quotes yet for this movie.
Discussion Forum
Discuss The Favor on our Movie forum!