The Final Girls
(2015)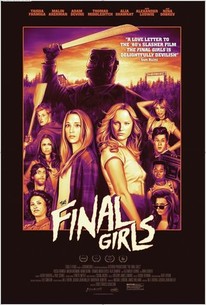 TOMATOMETER
AUDIENCE SCORE
Critic Consensus: The Final Girls offers an affectionate nod to slasher tropes while adding a surprising layer of genuine emotion to go with the meta amusement.
Movie Info
A young woman grieving the loss of her mother, a famous scream queen from the 1980s, finds herself pulled into the world of her mom's most famous movie. Reunited, the women must fight off the film's maniacal killer.
News & Interviews for The Final Girls
Critic Reviews for The Final Girls
Audience Reviews for The Final Girls
½
Delivering nonstop laughs, The Final Girls is a hilarious and witty horror-comedy. When the daughter of an '80s scream queen attends a screening of her mother's cult horror film "Camp Bloodbath," she ends up getting transported into the film. The script is incredibly well-written and does a great job at satirizing the tropes and clichés of '80s slasher films (particularly Friday the 13th). The film also really captures the look and feel of an '80s slasher. However, some of the performances are a little weak, and the setup that gets the daughter to the theater screening is a little clumsy. Still, The Final Girls is a lot of fun and a clever spoof of the genre.
Dann Michalski
Super Reviewer
½
Bette Davis Eyes? That's all I needed to hear
Spencer Macklin
Super Reviewer
While the film does a solid job at spoofing and affectionately playing tribute to 80s slashers, while being surprisingly tame as it relates to violence, like there's literally no graphic gore or extreme amounts of blood to speak of, it's also a film that fancies itself cleverer than it actually is. Like imagine this film as a simpler, more casual version of Cabin in the Woods, though not as overwhelming on the meta, and a more character-driven story. The film is entertaining, of course, but it's not as entertaining as it perceives itself to be. I don't know, but it never really seems to kick it into high gear, honestly. I just think that, subconsciously, it's marveling at how inventive it is to the point where it just detracts from everything else. Perhaps detract is not the correct way to describe this, but it's concentrating too much on subverting the tropes as opposed to making the film as consistently entertaining as possible. It's a funny film, but it's never really hilarious at any point. Well, I mean, Adam DeVine is pretty tremendous as the obnoxious jock asshole featured prominently in 80s slashers. This guy is the obnoxious asshole par excellence. I don't think, right now, there's anyone better at this type role than Adam DeVine. He also seems like the type of guy that would be a blast to film with. But I digress, I don't think the film gets as many laughs as it could've with its concept. There are some laughs, but they're never hearty, at least to me. Surprisingly, however, is the focus on Max's reconnecting with her mother, an actress who has died during the beginning of the film, through a character she played in a 80s horror movie. This is easily the best part of the film, because it does add a lot of genuine emotional depth to what is, otherwise, a silly tribute to 80s slashers. It's really well-written and the chemistry between Taissa Farmiga and Malin Akerman is excellent. The writing is strong, but the acting between Taissa and Malin is really heartfelt and effective. It makes you care about them and their relationship. The film pretty much ends exactly as you would expect, at least as it relates to Max's and her mother's relationship. But they also focus on the idea that Max is holding on to someone that's not actually real, it was just a role that her mother played. So that part of the film was actually fairly excellent. As I mentioned, it's the best part of the film and you would hope that they spent as much effort to make the film consistently entertaining as they did on the relationship between Max and her mother. There's also some good stuff with Vicki's and Max's friendship and how Max pushed her away after her mother's death, before becoming best friends with Gertie, driving even more of a wedge between Max and Vicki. When the film focuses on character development and character interactions, it's actually really fucking good. I can, honestly, take or leave the slasher spoofing. Like there's some cool stuff, like how they transition to flashbacks, and other meta references, but it's just not as effective as some of the film's other aspects. I'm not saying that the spoofing itself is bad, because it's not, it's just that my feelings on it are more mixed than some of the other aspects of the film. The cast is really good, though, they're really fun together and there's a great chemistry between them all. There may actually be a sequel planned, which I have no problem with, since, hopefully, they'll figure out some of the issues with this film and end up fixing them in the sequel, so I'm actually all for it. A very flawed movie, but one that's got a lot of heart and nostalgia to satisfy horror geeks. This is a solid rental, at best. Nothing special, as much as the film would like to pretend that it is, but a solid movie nonetheless.
Jesse Ortega
Super Reviewer
The Final Girls Quotes
| | |
| --- | --- |
| Amanda Cartwright: | Oh hi, what's your name? |
| Max Cartwright: | You just fucked with the wrong virgin! |
| | |
| --- | --- |
| Vicki: | At least I get to see her on the anniversary of her death. Even if she is being chased by a psycho. |
| Max Cartwright: | At least I get to see her on the anniversary of her death. Even if she is being chased by a psycho. |
Discussion Forum
Discuss The Final Girls on our Movie forum!