The Florida Project
(2017)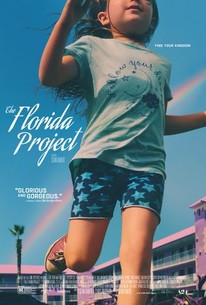 TOMATOMETER
AUDIENCE SCORE
Critic Consensus: The Florida Project offers a colorfully empathetic look at an underrepresented part of the population that proves absorbing even as it raises sobering questions about modern America.
The Florida Project Videos
The Florida Project Photos
Movie Info
The Florida Project tells the story of a precocious six year-old and her ragtag group of friends whose summer break is filled with childhood wonder, possibility and a sense of adventure while the adults around them struggle with hard times.
News & Interviews for The Florida Project
Critic Reviews for The Florida Project
Audience Reviews for The Florida Project
½
Funny, touching, heartbreaking and simply beautiful, Sean Baker's follow-up to his great Tangerine is even better than that film and boasts the adorable Brooklynn Prince in a wonderful performance that should have definitely earned her an Oscar (or at least a nomination).
Carlos Magalhães
Super Reviewer
The first accomplishment of this accomplished work is the inclusion of reality: everyone in this film I felt I knew or met or interacted with, in situations and locales to which I could relate. Heartbreakingly sad in it's depiction of the home of the free and the brave. Dafoe's best role that I've ever seen has him as an everyman actively trying to get his finger in the hole of the dam to little success. Must see filmmaking, so close to a documentary as to be chilling, with superb acting throughout.
Kevin M. Williams
Super Reviewer
½
Sean Baker is a director that been around for a while but I think it's fair to say that it wasn't until 2015's indie drama, Tangerine, that people began to sit up and take notice. In fact, I shamefully still didn't acknowledge him and decided to overlook Tangerine. That's a decision that I now regret and must remedy forthwith. Instead, I went straight into The Florida Project having no prior knowledge of Baker's work and now that I've had a taste of his remarkable ability. this is a director I will be watching very closely and one whose back catalogue is now a priority for me. Plot: Along with her rebellious mother Halley (Bria Vinaite), six-year-old Moonee (Brooklynn Prince) lives at a budget motel managed by Bobby (Willem Dafoe). Moonee is free-spirited young child who's happy to live a mischievous life with her friends finding all sorts of trouble to get into. However, her care-free existence comes at the cost of her financially struggling mother who has to explore more dangerous ways of providing for her daughter. Opening to Kool and the Gang's classic disco song Celebration, you'd be forgiven for thinking that you're in for a fun filled and playful film from the offset. That's not entirely the case but don't get me wrong, there is much to enjoy here in terms of its humour, it's vibrant well-drawn characters and its colourful palette but this opening actually serves as irony to the events that take place throughout the film. First off, the title of Sean Baker's film is a very clever play on words - and his intentions. On the surface, it's the blue-collar, welfare project in Florida that the poverty stricken characters inhabit but "The Florida Project" was also the original title of the world-famous amusement park that is now commonly known as Disney World. And it's this very juxtaposition that hits hardest in Baker's astute social commentary. After Kool and the Gang have their moment, we are introduced to the precocious Moonee as she and her friends run amok around the motel causing all sorts of havoc just to keep themselves entertained. It's apparent early on that Sean Baker is introducing us to an honest and unflinching depiction of people's lives who are living on the poverty line, or who are more commonly known as the hidden homeless. Moonee is our eyes and ears throughout this journey and Baker's decision to use a handheld approach vividly captures the moments in her life. Whenever she's onscreen, Baker regularly lowers his camera to Moonee's eye-level which only adds to her perception of her environment and her place within it. It's a hugely effective approach but he also takes time to spend with the adults within the story. Most notably Moonee's rebellious mother, Halley played by newcomer Bria Vinaite and Willem Dafoe's warm hearted motel manager, Bobby. Baker biggest achievement is in immersing us in these characters' lives with a hugely involving and genuinely authentic delivery. He captures the poverty of their lives - scraping by and just tying to survive day-to-day - all the while a stones throw from Disney World, one of the most lucrative and iconic images of western capitalism. Whether or not Baker has political intentions with his film can be debated but it's a sobering juxtaposition to depict a slice-of-life on the doorstep of the magical kingdom that's primarily aimed at kids and purports a 'dreams come true' ideology yet doesn't have a place for the kids of this movie and many, many like them in reality. Even the lush, pastel coloured backdrop of the motel is at odds and far removed from the struggles of our characters' lives and cinematographer Alexis Zabe does some wonderful work in depicting a sun-kissed Florida that has left these people in the shadows. Athough it can be a raw and unflinching look from the sidelines, Baker imbues the film with such spirit and energy that you're swept along in their journey and while you share their struggle, you're also intoxicated with their positivity and determination and he does so by refraining from judgment or condescension. His approach is one of respect and he films with a compassion and honesty that hits on a deeply personal level. Of course, in order to fully achieve this Baker must rely heavily on his actors and they reward him with excellent work. The child actors deliver very naturalistic performances and six-year-old Brooklynn Prince is a revelation with a lot of weight on her young shoulders. There's equally solid support from newcomer Bria Vinaite and a (deservedly Oscar nominated) soulful supporting turn from the ever reliable Willem Dafoe. It's often forgotten how heartwarming Dafoe can be and this is the epitome of his gentler side to performing. That said, I reckon Vinaite can consider herself very unlucky not to find herself among the Oscar nominees this year such is her ferocious and passionate performance. This is an actress I'm certain we'll be seeing much more of. There's is a lot of irony, juxtaposition and contrast going on in this film but that's what makes it so multi-layered and much more than your average slice-of-life drama. In fact, it reminded me very much of an American version of the works of Ken Loach and his significant and uncanny ability to capture real life - without prejudice - and tell a story of real people facing real problems. An absolutely absorbing and bittersweet gem. Mark Walker
Mark Walker
Super Reviewer
The Florida Project Quotes
There are no approved quotes yet for this movie.