The Fox
(1967)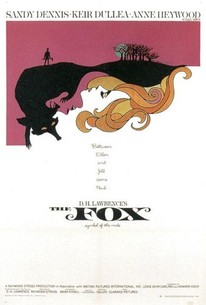 Movie Info
This romance is based on D.H. Lawrence's novella. It follows the lonely lives of lesbian lovers who have sequestered themselves away in an isolated farmhouse. Trouble begins when one of them begins secretly yearning for a man. When one comes to call, the lovers soon find their relationship in shambles.
Critic Reviews for The Fox
Audience Reviews for The Fox
½
A three-actor movie (well, minus a brief character at the end and one train conductor), "The Fox" is about a wintery power struggle between two isolated female farmers (Sandy Dennis, Anne Heywood) and a sexually potent drifter (Keir Dullea). Its main importance is its stature as a vanguard lesbian film, but it pulls its punches and keeps the couple's relationship ambiguous except for one quick scene. It's probably not coincidence that the film arrived during the peak of Ingmar Bergman's renown, because its small cast and determined focus on intense, psychological interplay certainly reflects the director's influence. But this approach comes with a grave risk of turning heavy-handed, and "The Fox" fully stumbles into this trap. Dennis is just the same rheumy, babbling character she always plays, but Heywood and Dullea really go over the top with all their tortured stares and portentous silences. And the obvious "fox in the henhouse" metaphor is hammered, hammered and hammered again. Lalo Schifrin adds a pretty score and the lovely cinematography takes advantage of the snowy, woodsy setting, but the central problem is that Dullea's character is so sullen, cruel and unpleasant that the women's attraction to him doesn't seem plausible. One outdoor scene has a strange, avant-garde insertion with freeze frames and flashes of orange, and it is anyone's guess what director Mark Rydell (who also helmed the structurally similar "On Golden Pond") intended here. Heywood grants some wholly unnecessary nudity for spice, and sensitive viewers may object to two disturbing moments of animal violence.
Eric Broome
Super Reviewer
The Fox Quotes
There are no approved quotes yet for this movie.