The Frankenstein Theory
(2013)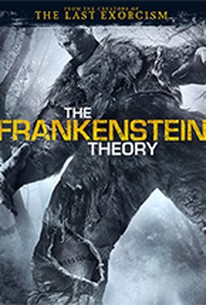 AUDIENCE SCORE
Critic Consensus: No consensus yet.
The Frankenstein Theory Photos
Movie Info
Synopsis: From the makers of The Last Exorcism comes a boldly original vision of horror - THE FRANKENSTEIN THEORY. What if the most chilling novel of all time was actually based on a true account of a horrific experiment gone awry? When he is suspended from his university job for his outlandish ideas, Professor John Venkenheim leads a documentary film crew to the rim of the Arctic Circle in a desperate effort to vindicate his academic reputation. His theory: Mary Shelley's ghastly story, Frankenstein, is, in fact, a work of non-fiction disguised as fantasy. In the vast, frozen wilderness, Venkenheim and his team search for the legendary monster, a creature mired in mystery and drenched in blood. What they find is an unspeakable truth more terrifying than any fiction...a nightmare from which there is no waking. (c) Image
Critic Reviews for The Frankenstein Theory
All Critics (3) | Top Critics (1) | Fresh (0) | Rotten (3)
Fourteen years after "Blair Witch," has the whole found-footage-horror genre jumped the shark? Maybe. Weiner, however, manipulates its well-worn tropes deftly.
It's the first found-footage film I can remember to marry the 21st-century horror genre to classic horror from a century ago, and that makes it at least worth a look.
Audience Reviews for The Frankenstein Theory
½
Creating the air of mystery around what exactly is responsible for the attacks, and leaving the creature off focus for the whole movie for a shocking final reveal in the last sequence might have been more effective if the damn thing wasn't ALREADY ON THE BLOODY DVD COVER.
Another day, another found footage movie. Kinda surprised that this is the first found footage in the horror fest. Though, of course, it's obvious, as evidenced by the score for this, that I didn't think that this was a very good movie. I know that I've been defending the concept and the style that this movie employs, but the movies I've seen lately have certainly made me look very foolish about defending it. Though, if I am being honest, this wasn't close to being the worst example of the genre. Alien Abduction is considerably worse than this what with all the glitches that felt more like a hollow way to get around the fact that the film was just really cheaply made. At the very least, to me anyway, this movie doesn't have the same amount of infuriating glitches. I'm not saying that they're completely absent from this, but there as many that drove me up the wall like the ones in Alien Abduction did. Conceptually speaking, it's not like the movie had such a great idea that you can see that there was potential that the movie just didn't live up to, but it's at the least somewhat intriguing in that you want to see where the film heads, but are slightly disappointed when you finally do get to the end result. The problem with this is that they take an idea that, realistically speaking, would have made for a good episode of an anthology series, like Masters of Horror or a modern Twilight Zone. The film just has, maybe, less than 40 minutes of actually interesting material. They throw in some comedy there to make it seem like stuff is actually going on, but there's really not much. Thankfully the movie isn't that long, but when you are stretching out things twice past what their normal length should be, it ends up making this feel longer than it actually should. I'm not saying that what the film does is bad or anything close to that, it's just a little boring to be honest. You do wanna see the 'real' Frankenstein in question, but that's about it. There's nothing else to the movie past that. And when you DO get to see Frankenstein, talk about disappointing as fuck. The fact of the matter is that, really, the only thing that could have helped this movie was if it ended up being super gory, and I mean like Evil Dead remake type of gory. They didn't have the budget for that, so the gore is really very minimal. So you have a boring movie with nothing really going on until the last 15 minutes or so and no gore. What are you gonna get? This, a below average movie and another real poor example of the found footage genre. I can't really recommend this movie in the slightest. Even if you have watched every horror movie in the face of the earth minus this one. It's just not very good. Not the worst, but just a below average movie that offers very little in redeemable qualities.
Jesse Ortega
Super Reviewer
a total blair witch remake done with frankenstein, almost the entire plot is identical, all tho it was done decent, it wasn't as spooky and crazy as I was hoping it would be. Honestly wouldn't have given this movie a chance if Lemche wasnt in the cast, but yeah, cool. cool cool.
Shawn Montague
Super Reviewer
The Frankenstein Theory Quotes
There are no approved quotes yet for this movie.