The Future of Food
(2005)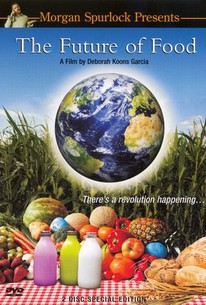 The Future of Food Photos
Movie Info
There is a food revolution happening in America today. People are seeking out farmers' markets, organic produce and good restaurants. At the same time, our food supply is increasingly controlled by multi-national corporations. Over the past 10 years, with the advent of genetic engineering and the massive expansion of pesticide companies, like Monsanto, into the seed business, the very nature of our food system has radically changed with potentially disastrous effects on our food security. Patenting of life is now permitted, no labeling of genetically modified organisms (GMO's) in food is required, research is conducted on these issues by universities beholden to the "agri-corps" who fund them, and the major regulatory agencies are run by former execs from these very companies. All the while, the average citizens remain blissfully unaware that they are eating GMO food and supporting the aggressive "corporatization' of their food sources. In fascinating and accessible terms, 'The Future of Food' illuminates the major issues ultimately affecting us all -- some surreal, some futuristic, many frightening. Yet, 'The Future of Food' is a hopeful film, featuring insightful and moving interviews with farmers, agriculture and business experts and policymakers. It sees a future in which an informed consumer can join the revolution by demanding natural, healthy food sources that insure environmental integrity.
Critic Reviews for The Future of Food
Audience Reviews for The Future of Food
The Future of Food is a documentary which focuses on growing concerns over how our crops are produced, and how science is altering the foods we eat. Interesting documentary. To me it was a little boring and tedious because of so many excruciating facts and evidence including scientific which clearly were important in this film but nevertheless a good documentary. No matter what everyone is affected by crop growing in all it's aspects and should in some way acknowledge the facts portrayed in this film and become aware. With deregulation's placing less federal scrutiny on how crops are grown, and an increasing number of "angri-business" firms introducing genetically modified vegetables and grains, some experts have begun to question just what we are eating, and how it got that way. Enjoy! THE FUTURE OF FOOD offers an in-depth investigation into the disturbing truth behind the unlabeled, patented, genetically engineered foods that have quietly filled U.S. grocery store shelves for the past decade. From the prairies of Saskatchewan, Canada to the fields of Oaxaca, Mexico, this film gives a voice to farmers whose lives and livelihoods have been negatively impacted by this new technology. The health implications, government policies and push towards globalization are all part of the reason why many people are alarmed about the introduction of genetically altered crops into our food supply. Shot on location in the U.S., Canada and Mexico, The Future of Food examines the complex web of market and political forces that are changing what we eat as huge multinational corporations seek to control the world's food system. The film also explores alternatives to large-scale industrial agriculture, placing organic and sustainable agriculture as real solutions to the farm crisis today. The Future of Food reveals that there is a revolution going on in the farm fields and on the dinner tables of America, a revolution that is transforming the very nature of the food we eat.
An excellent companion piece to the widely recognised Food, Inc. The Future of Food focuses more on the scientific breakthroughs of the last 20 years. It shows how the genetically modified seeds have crossed with those that are harvested by farmers that wish to have no part in this corporate game. These farmers are not to be sued for having patented crops they never wanted in the first place. It's a rich and complex issue, as the dream of cheap and healthy food for all has evolved into a sickening game of chase the cash. Yet another damning of the capitalist nature of America, it preaches for a more simplified world or organic farming. Heavy on the science and low on the sentiment, this is an educational documentary that opens the eyes.
Luke Baldock
Super Reviewer
Unfortunately, this documentary paints too many topics with one brush... redeemingly, though, it occasionaly sheds some interesting if brief light on some of the true nuances of its subject. The latter (genetic food labeling, farm subsidy analysis, etc.) was overshadowed by a moralizing "corporations bad, genetic engineering bad, families good" generalization. If the film took the same nuanced approach to genetic engineering (perhaps separating the technology from the corporate megaliths which control its usage) and perhaps has a bit more variety in it's interviews, it could have been amazing. Sadly, much of this topic was covered better, briefer, and with greater context in "The Corporation"... yet, for anyone with a passing interest in the subject, this movie is well worth your time.
Daniel Hetteix
Super Reviewer
The Future of Food Quotes
There are no approved quotes yet for this movie.